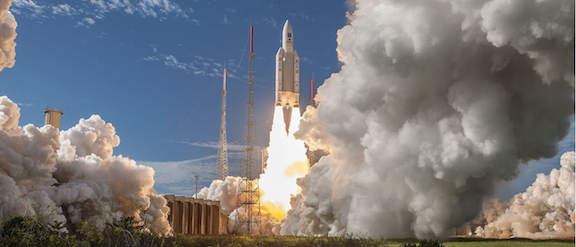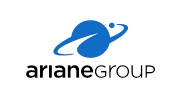 For their fourth launch of the year, Arianespace successfully launched four more satellites (satellites 23 to 26) for the Galileo constellation. The Ariane 5 lifted off on schedule at 13h 25mns and 1 second CET from the European spaceport in Kourou (French Guiana), carrying Galileo satellites 23, 24, 25 and 26. This mission is being performed on behalf of the European Commission under a contract with the European Space Agency (ESA).
For the third time, today's launch was carried out by an Ariane 5 ES version, previously deployed successfully for the launches of all five European Automated Transfer Vehicles (ATV), as well as for the launch of eight other Galileo satellites — four in November 2016 and four in December 2017. Ariane 6 will take over from 2020.
The launch performance achieved by this Ariane 5 ES into a circular MEO (Medium Earth Orbit) at an altitude of 29,600 kilometers was 3,284 kilograms (of which the satellites comprised 2,866 kilograms). The satellites were launched using a 416-kilogram dispenser system developed and constructed by ArianeGroup specifically for Galileo launches on Ariane 5.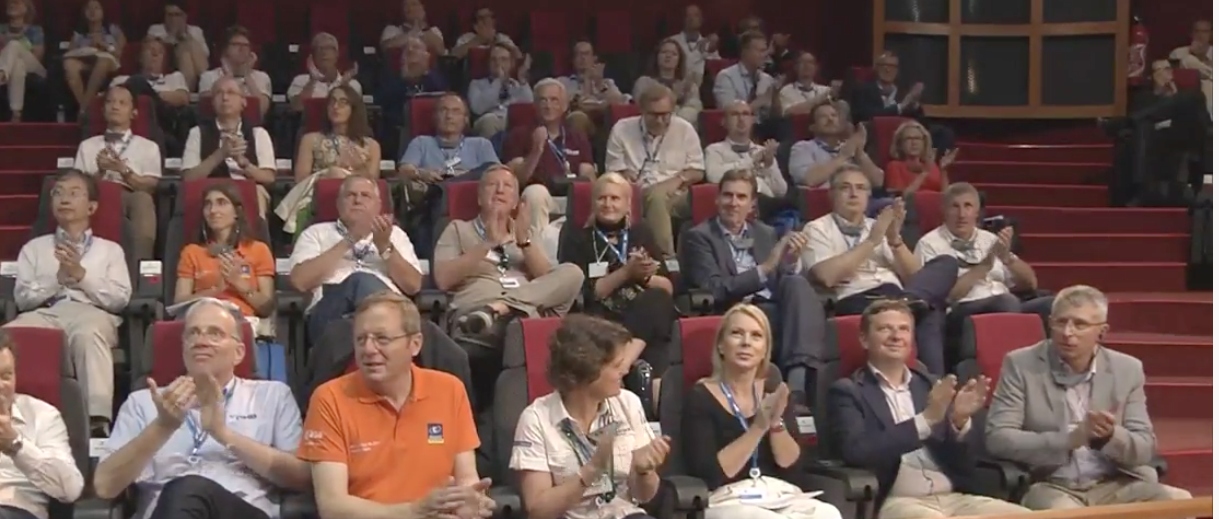 Arianespace is proud to mobilize its entire family of launch vehicles for the benefit of Europe's ambitions and its independent access to space.
The launch deployed its quartet of Galileo spacecraft during a nearly four-hour flight, with liftoff taking place at exactly 8:25:01 a.m. local time in French Guiana on Wednesday.
Stephane Israel, CEO of Arianespace, says ground controllers have acquired radio signals from all four Galileo satellites after today's launch. The solar panels on the first pair of spacecraft deployed have been extended, and engineers hope to confirm the solar arrays on the second pair of satellites have unfurled shortly.
Israel said the Ariane 5 achieved its targeted circular orbit more than 14,000 miles (nearly 23,000 kilometers) above Earth, with an inclination of 56 degrees.
"Things are moving in the right direction," Israel said.
"Ariane 5 has performed brilliantly in highly complex missions and has broken all records. I am looking forward to celebrating its 100th launch in September of this year. I would like to thank ESA and the European Commission for once again having entrusted our subsidiary Arianespace with this emblematic mission, and deciding to get on board Ariane 6, with the launch of the next 4 Galileo satellites," said Alain Charmeau, CEO of ArianeGroup.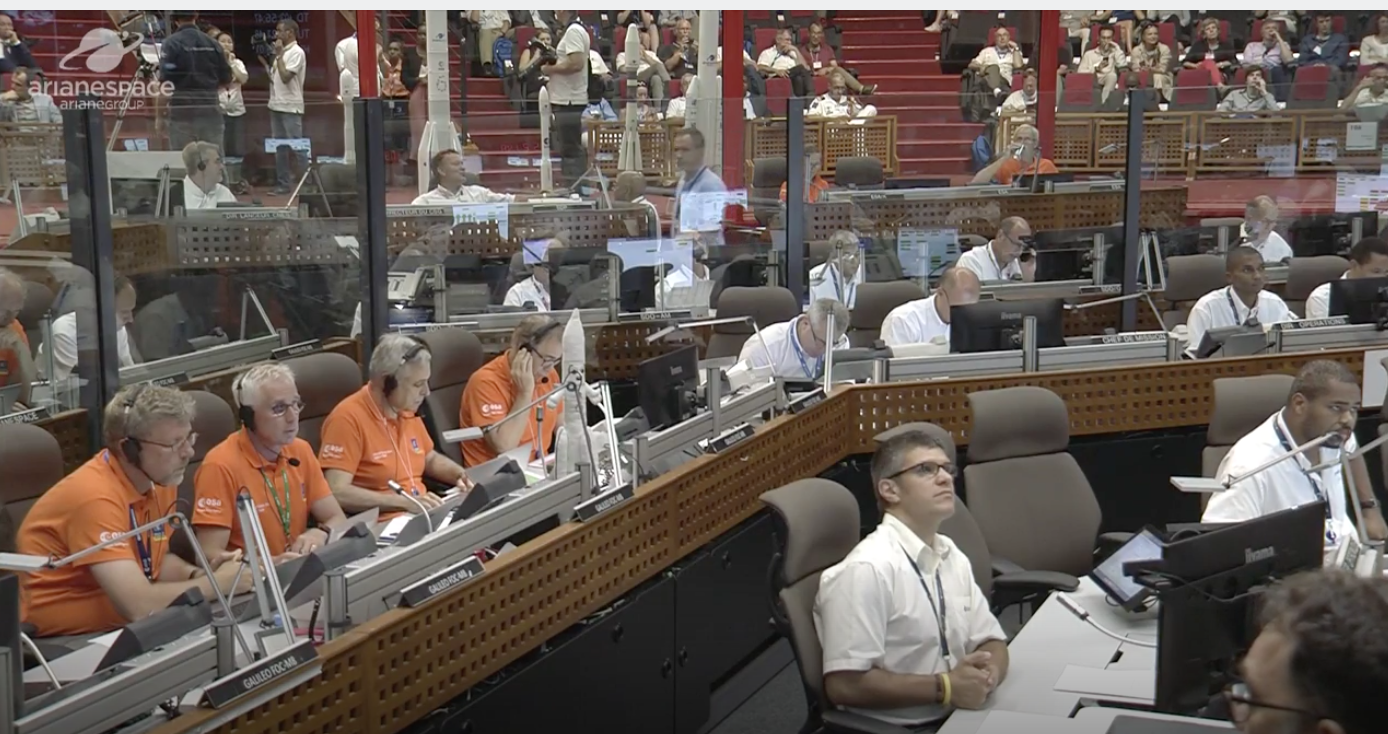 Representing cutting-edge European expertise, the Ariane 5 launcher is one of the largest and most ambitious space programs in the world. Its flexibility enables it to transport heavy payloads into low Earth orbit, two satellites into geostationary transfer orbit, single satellites with an optimized lifetime or, as it is the case today, several satellites into medium orbit.
ArianeGroup is the industrial prime contractor for the development and deployment of Ariane 5 and Ariane 6 launchers. The company coordinates an industrial network of more than 600 companies (including 350 SMEs) in 13 European countries. ArianeGroup oversees the entire industrial supply chain, from performance optimization and the corresponding studies associated with the Ariane 5 to production, from the supply of mission-specific data and software to the marketing of the launcher through Arianespace. This chain includes equipment and structures, engine manufacturing, integration of the various stages and finally launcher integration in French Guiana.
The Galileo satellites have a liftoff mass of approximately 740 kg. each, and will be injected into a medium Earth orbit (MEO) at an altitude of 22,922 kilometers. To achieve this, the Ariane 5's storable propellant upper stage will perform two separate burns.

Galileo is operated under civilian control as Europe's own global navigation satellite system, offering guaranteed high-precision positioning around the world. Its initial services began in December 2016, allowing users equipped with Galileo-enabled devices to combine Galileo and GPS data for better positioning accuracy.
The European GNSS Agency (GSA) is responsible for operating the Galileo satellite navigation systems on behalf of the European Union. Galileo spacecraft are built by OHB System in Bremen, Germany, and the navigation payloads provided by Airbus-owned Surrey Satellite Technology in the United Kingdom.
Flight VA244 is Arianespace's third Ariane 5 mission carrying European Galileo satellites, following previous launches in November 2016 and December 2017. Prior to that, the company orbited 14 of them on seven Soyuz missions performed between October 2011 and May 2016.
Currently providing Initial Services, Galileo is interoperable with GPS and Glonass, the U.S. and Russian global satellite navigation systems. By offering dual frequencies as standard, Galileo is set to deliver real-time positioning accuracy down to the meter range.
The constellation will count 24 operational satellites plus in-orbit spares, of which 22 already have been put into orbit by Arianespace.
In July 2017, ESA officially transferred the supervision of Galileo in-orbit operations to the European Global Navigation Satellite Systems Agency (GSA), on behalf of the European Union. After the VA244 launch, the GSA will be responsible for operating the satellites as soon as they are separated from the launcher. These operations of setting up and operating the system will be done in collaboration with ESA.