[SatNews] The platform is the most powerful on the market, capable of conducting missions with a satellite launch mass of up to 8,800kg, a payload power of up to 22kW and a payload mass up to 2,000kg.
Astrium, Europe's leading space technology company, is preparing Alphasat, the most sophisticated commercial communications satellite ever built, for its launch. On July 25, Alphasat should be launched aboard an Ariane 5 to reach the geo-stationary orbit (36.000 km). Astrium is the industrial prime contractor for both Alphasat and the Ariane 5 European launcher.
Alphasat, designed for 15 years of in-orbit lifetime, will have a launch mass of 6,650 kg and a wingspan of 40 meter s once its solar arrays are deployed in orbit. Launch and Early Orbit Phase operations will be conducted from the Astrium spacecraft control centre in Toulouse.
Designed and built by Astrium for Inmarsat, the leading provider of global mobile satellite communications services, and the European Space Agency (ESA), Alphasat embodies three outstanding achievements in one single program: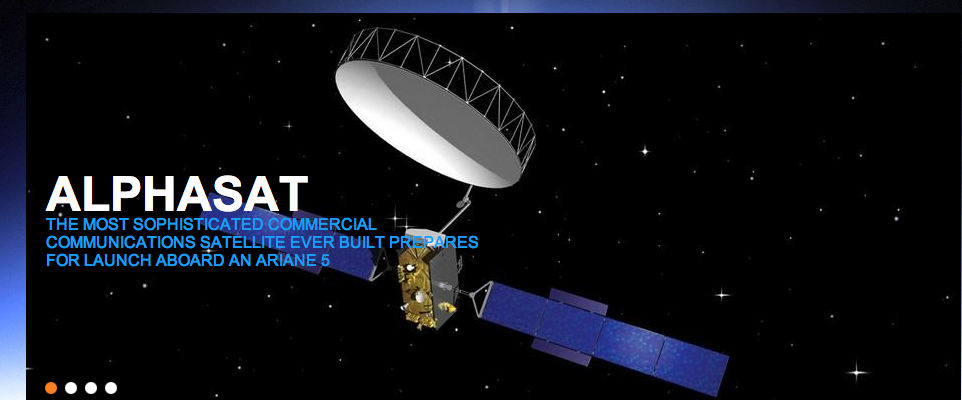 —Alphasat carries a new generation of advanced geomobile communications payload in L-band that will augment Inmarsat's broadband network service across Europe, Africa and the Middle East, providing new capabilities in terms of performance and resource availability. The satellite's payload, built by Astrium, features eight new generation digital signal processors, which are able to efficiently manage multiple communications with maximum flexibility in both frequency and beam power allocation.
—Alphasat is the first flight model of the new high capacity European satellite platform Alphabus which has been jointly developed by Astrium and Thales Alenia Space with ESA and CNES (French Space Agency) support, to address the upper range of the communications satellite market. The Alphabus platform is the most powerful platform on the market, capable of conducting missions with a satellite launch mass of up to 8,800kg, a payload power of up to 22kW and a payload mass up to 2,000kg.
—Alphasat also carries four Technology Demonstration Payloads for ESA, including a laser communications terminal, developed under German space agency DLR contract. It is a precursor of the operational system for EDRS (European Data Relay System) enabling very high speed transmission between LEO and GEO which will greatly enhance Earth observation applications and services.
Astrium is the prime contractor of the Ariane launchers. Astrium has been overseeing the Ariane 5's industrial network since 2003, comprising more than 550 companies (over 20 percent of them SMEs) in 12 European countries.
Astrium Space Transportation also manages the entire industry supply chain, from the manufacture of equipment and stages to the complete integration of the launcher in French Guiana, in line with the customer's specifications. Thanks to the expertise the company has acquired and the investments it has made in this near 10-year period, Ariane 5 has become the most reliable commercial launcher on the global market and has increased its geostationary orbit payload capacity by nearly one metric ton. A flagship of European know-how, the Ariane 5 launcher has been specifically designed to carry heavy payloads into space.