A proof-of-concept mission has been proven successful so far when Radix, the first satellite from Analytical Space, was successfully deployed from the International Space Station via the NanoRacks CubeSat Deployer. The shoebox-sized satellite had been onboard the space station since May 24th, when the Orbital ATK Cygnus spacecraft that carried it into space docked with the station as part of a resupply mission.
Radix mission demonstrates the capabilities required to provide a hybrid RF-optical data relay service for satellites in low-Earth orbit. Analytical Space has lined up a number of beta-test partners who will transmit data from their satellites to Radix, where it will be stored for downlink using Radix's high-speed RF and optical systems. These partners represent a cross-section of missions — from weather data to synthetic-aperture radar—and organizations, including commercial remote sensing, academic research and civil government agencies.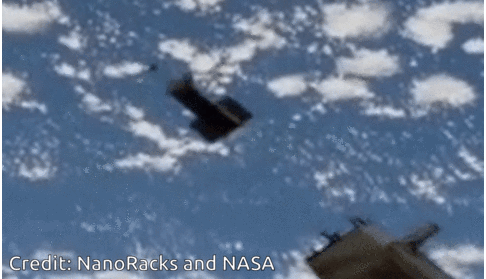 Analytical Space's backwards-compatible approach allows users of the network to offload data using their existing RF hardware, minimizing barriers to adoption for customers and making Analytical Space satellites immediately useful for satellites already in orbit. The testing done on Radix and feedback from beta testers will help inform the design of future relay satellites and the roll-out of the network.
Justin Oliveira, co-founder and CEO said that as they add satellites to the network, they'll be able to significantly increase the utilization of existing and future remote sensing satellites and decrease the time between data collection in orbit and analysis on the ground. They're excited to enable missions with higher data generation rates, translating into data products with higher spatial, spectral or temporal resolutions, or novel low-latency applications, all of which lead to more actionable insights for use in industry, government and research around the globe.
The concept came to Oliveira during his tenure at NASA and the White House. After retiring from the public sector, he matured the idea further at Harvard Business School with his co-founder Dan Nevius and together they launched Analytical Space. In the two years that followed, the team designed and built Radix, advancing the state-of-the-art for what can be accomplished on a CubeSat platform.​​​​​​​
Analytical Space currently resides at The Engine, the venture firm founded by MIT to invest in "tough tech" startups — companies with longer investment horizons but the potential for widespread positive impact. Katie Rae, CEO and managing partner of The Engine said that Analytical Space's vision for transforming data downlink exemplifies the innovative technology the Engine was founded to support. They are proud to foster their development as they embark on this new chapter with Radix.