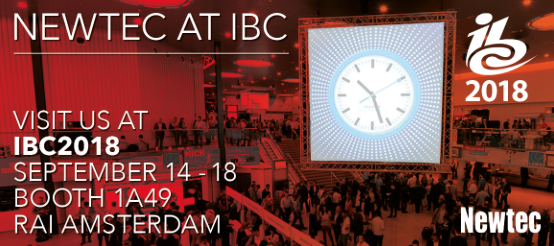 Newtec's products and services are many and varied to include designing, developing and manufacturing equipment and technologies for satellite communications. The company is dedicated to creating new possibilities for the broadcast, consumer and enterprise VSAT, government and defense, cellular backhaul and trunking and mobility, offshore and maritime markets.
With these wide spectrum of capabilities Newtec will be at IBC2018 at booth 1A49 to bring the following:
The Latest Industry Leading Broadcast Equipment
The Benefits of All-IP Broadcasting
New Demo DVB-S2X Channel Bonding: 4K and 8K Sports/Events Coverage Made Possible Over Fragmented Space Segment
New Demo: Satellite & OTT - Feeding the CDN's
New Complete DVB-S2X Wideband Modem Portfolio
New00 Product Launch - Newtec Dialog® MDM5010: A Clear Answer to the Market's Ever Increasing Throughput Demand
Newtec Dialog® Release 2.1: Monetize Your HTS Capacity
HTS/MOBILITY Optimized Products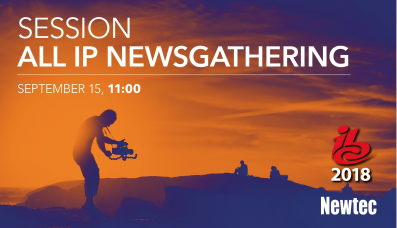 ... and Newtec's IBC2018 Sessions
As part of IBC2018, Newtec will bring some of the satellite industry's leading experts together to discuss the latest trends and evolutions. Newtec's IBC sessions will take place on Saturday, September 15, will feature insightful presentations and speakers. Get a full overview here!
Along with Newtec experts, these delegates will discuss some of the most critical topics affecting the whole satellite ecosystem, from advanced IP newsgathering and providing sustainable broadband to Satellite on-the-move, to Satellite and 5G and the premium session about New Space.
Newtec also notes that participants will enjoy a lively discussion regarding: All-IP Newsgathering
Newtec's products and technologies can be applied in a wide range of single and multiservice applications from DTH broadcasting, video contribution and distribution and disaster recovery and backbones for cellular backhauling, to small and medium enterprises, SCADA and oil and gas networks, aircrafts and vessels.
Newtec welcomes your visit at IBC and hopes the company has solutions that you are seeking.