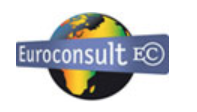 The Canadian team at Euroconsult has a new Principal Advisor, and her experience and skills will be greatly appreciated due to the intense activity in the aerospace and defense areas.
Euroconsult today announced the hiring of Emeline Bardoux to the role of Principal Advisor at Euroconsult Canada, where she will contribute to the company's expanding presence and solidify industry relationships in the aerospace and d efense areas. Emeline brings her extensive consulting experience and skills to Euroconsult during a time of intense activity in the sector, both in Canada and across the globe.
Prior to Euroconsult, Emeline worked for Starburst Accelerator to help develop the strategy and innovation consulting practice first in Paris and then in Montreal, where she opened their office. Before Starburst, Emeline spent more than five years with Accenture in the Aerospace & Defense sector where she obtained a global certification in Lean Six Sigma and Project Management. During this time she worked with companies such as Thales, Airbus, Dassault Aviation, Safran, and Zodiac Aerospace, amongst others, across multiple fields: Supply chain, global collaboration, performance and process optimization. Emeline received her degree from Ecole Polytechnique Féminine - Sceaux, in 2010.
Nathan de Ruiter, Managing Director of Euroconsult Canada shared that they are delighted to have Emeline as part of the team and look forward to her contributions to their business in a rapidly changing market environment. Emeline's consulting background and experience bring a new level of expertise and will be a significant force in their ongoing strategy to expand their capabilities in Canada and across the global market. They welcome Emeline's addition to the team at a time of growing demand in their business.
Emeline Bardoux added that this is an exciting time to join Euroconsult and she is ready to dive in. Euroconsult's market focus and on-the-ground presence around the world offers a unique value proposition to companies and organizations there in Canada and across the globe.