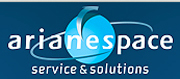 The two satellite passengers for Arianespace's upcoming Ariane 5 flight — AT&T T-16 and EUTELSAT 7C — are advancing through their payload preparation phases during parallel activity at the Spaceport in French Guiana.

Both are telecommunications relay platforms for operation by long-time Arianespace customers: AT&T, which provides mobile, broadband, video and other communications services to U.S.-based consumers; and Eutelsat, the Paris-based company providing satellite capacity to clients that include broadcasters and broadcasting associations, pay-TV operators, video, data and internet service providers, enterprises and government agencies.
Scheduled for liftoff on June 20, this mission is to mark the fifth flight in 2019 by a member of Arianespace's launch vehicle family — which consists of the heavy-lift Ariane 5, medium-size Soyuz and lightweight Vega. It will be the second this year using the workhorse Ariane 5.
AT&T T-16, produced in France by Airbus Defence and Space based on the Eurostar 3000 LX Hybrid platform, will occupy the upper passenger position in Ariane 5's dual-payload configuration, to be released first during the launch sequence. This hybrid-propulsion-powered broadcast satellite can be operated from five different orbital slots (from 99 degrees West to 119 degrees West) following its deployment by Ariane 5, with a coverage area that will include the continental United States, Alaska, Hawaii and Puerto Rico — iftoff mass is estimated at 6,350 kg.
EUTELSAT 7C, a telecom satellite with all-electric propulsion, is to be released from the Ariane 5 launcher's lower payload position. It was built by Maxar Technologies using the company's 1300-140 All-Electric platform and will weigh approximately 3,400 kg. at liftoff. Once operational from its orbital position at 7 degrees East, EUTELSAT 7C will significantly increase capacity over Sub-Saharan Africa – making room for several hundred additional digital channels as this region's television market continues to grow at a rapid pace.