Newtec has planned for a number of informative sessions to be conducted during the upcoming IBC2019 trade event in Amsterdam — the company's focus will be Today and Tomorrow: Satellite's Critical Role in Our Future.
At the show, Newtec will be showcasing:
The company's industry-leading broadcasting equipment and solutions that allow the highest efficiency, reliability and availability as well as interoperability.
New MCX7000: Multi-Carrier Satellite Gateway R2.5 — Safeguard TS services and prepare for all IP play-out and OTT services.
"Satellite and OTT: Feeding the CDNs" — find out why satellite is so critical to the success of OTT networks.
Powered by Newtec Dialog® – See the different ways in which our industry-leading, multi-service platform is deployed. Learn how it is being used in different settings and for different purposes.
New Newtec Dialog 2.2: Discover the company's new release, fueling orchestrated service delivery.
New MDM2510: Support the enterprise digital transformation — anywhere.
Find out more about the benefits of All-IP Contribution.
New SMB3310: Highest performance DVB-S2X satellite modem board on the market.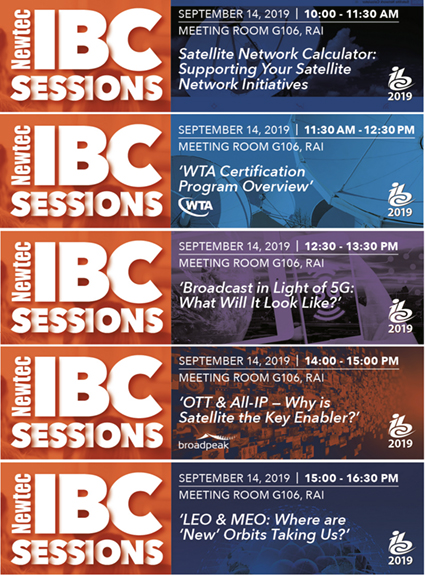 The sessions will be held in meeting room G106 at RAI, Amsterdam, and, in addition to the company's own Newtec experts, a number of distinguished industry speakers will discuss the hottest topics that are driving the satellite ecosystem: the WTA will discuss their teleport certification program and how it delivers value for teleport operators and the foremost industry topics, such as 5G, OTT, All-IP and LEO and MEO orbits, will also be examined.

The day will end with the opportunity to gather at the Newtec booth for a Happy Hour.
Satellite Network Calculator
Travel on a journey with Newtec's Satellite Network Calculator. In this session, the company will explore its history, value and domains in which it may be deployed as well as its outcome, featuring link budgets, geographic deployment simulations, business cases, logistics, mission planning and education. The session will run from 10:00 to 11:30 a.m. Registration link...
WTA Certification Program Overview
WTA will give an introduction to the association and its programs, followed by details on how certification delivers business value for teleport operators. Randall Barney, Director of Certification & Membership, WTA, will offer an overview of the Certification program as well as an introduction to its processes and deliverables. Robert Bell, Executive Director, WTA, will also speak on the most common, underappreciated vulnerabilities in teleport facilities and procedures, from analysis of Certification data. This will all be followed by a Q&A session. The session runs from 11:30 a.m. to 12:30 p.m. Registration link...
Broadcast in Light of 5G: What Will It Look Like?
A glimpse into the future is afforded as well as any analysis of the role 5G will play in the future of broadcasting and satellite's part in the delivery of 5G networks. 5G holds the potential to transform how broadcasters operate and to take their offerings to a completely new level. Now is the time for broadcasters to develop their businesses for a 5G future. This session runs from 12:30 to 1:30 p.m. Registration link...
OTT & All-IP – Why is Satellite the Key Enabler?
As OTT video becomes more and more popular, delivery challenges become more apparent. Two actual use cases will address the essential role that satellite plays, whether in delivering high quality content to DTH Customer Premises Equipment, or feeding Content Delivery Networks. The session runs from 2:00 to 3:00 p.m. Registration link...
LEO & MEO – Where are 'New' Orbits Taking Us?
The first of the MEO/LEO satellite constellations that have been anticipated for so long are now on-orbit. What are the prospects for these LEO/MEO broadband and smallsat IoT constellations? Who will succeed and with what business model? Will there be too many competing players? How are ground equipment manufacturers ensuring that they are future proofing their products and services to cope with connectivity in these orbits? This session runs from 3:00 to 4:30 p.m. Registration link...
Register for the session of your choice to secure your place at what will certainly fascinating forums that will deliver insight as to where this industry is heading.