ND SatCom has won the opportunity to develop a telecom network for Sistema Integrado de Defensa Aérea y Control de Tráfico Aéreo (SIDACTA) to securely and reliably connect locations across Bolivia.
In the presence of Bolivian President Evo Morales and former French President Francois Hollande, Thales Air Systems signed the SIDACTA contract with the Bolivian Ministry of Defence to modernize civil and military airspace across Bolivia. This telecommunications network for integrated air defence and civil air traffic management (ATM) will rely on the SKYWAN 5G VSAT network as the primary network, with a secondary one from ENTEL providing terrestrial backup where feasible. The VSAT network uses C-band transponders as recommended by ICAO (International Civil Aviation Organisation).

Applications in this complex network design require several traffic classes (from radar to other IP tunnel-based services with guaranteed metrics) when transmitting over the primary SKYWAN VSAT network or when a fraction of the user traffic is sent on the satellite link and the terrestrial lines at the same time. Radio data may contain VHF/UHF voice while telephone data originates from legacy analogue voice devices that are handled as real-time critical data and benefit from SKYWAN 5G's rooftop-to-rooftop direct link capability.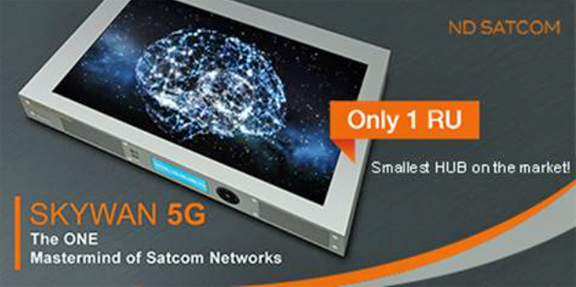 The SKYWAN 5G network will be used in a star topology. This VSAT network will interconnect 11 fixed radar sites and two GM 400 mobile radars to form the robust primary telecom network for civil and military air traffic controls in Bolivia. Redundant master sites will ensure network availability and guarantee data security. The VSAT network will make use of fly-away terminals for mobile deployments. Since the network will cover high-altitude locations in Bolivia, operational capability at 5000 m above sea level is required.
The kickoff for SIDACTA's VSAT project occurred in May, and factory acceptance is scheduled for December. The next phase of shipment and site installation will follow, which will be conducted jointly with Thales Air Systems and the end customer COSDEA (Comando Seguridad y Defensa del Espacio Aéreo) at each location.
According to Michael Weixler, ND SatCom's Head of Product Management, SKYWAN 5G again demonstrated its outstanding VSAT network capabilities for managing demand through either exceptional reliability or complex topologies when flexibility is essential. SKYWAN's telecom feature set allows the company to integrate with any terrestrial infrastructure. Plus, SKYWAN's support of numerous traffic classes, from legacy voice applications to mission critical real-time radar services, is a key advantage. A single disruptive feature was not required; rather, the collective effect of well-designed features in one cost-effective unit made the difference.
ND SatCom will also be present at IBC2017 and will be located at booth 5.A60.