[SatNews] The Satellite Interference Reduction Group (IRG) today announced that ETL Systems has become the latest member to join the group.

ETL designs and manufactures professional RF distribution equipment for Satellite Ground Stations and other Microwave users. ETL's heritage is in designing satellite signal routing solutions for broadcasters, who demand high levels of RF performance, as well as redundancy and resilience. This expertise has been expanded to cover Government, Military, Marine, Private VSAT networks as well as global Satellite Operators.

"We are delighted to add ETL to our list of members," commented Martin Coleman, Executive Director, IRG. "I have worked with ETL for many years and have always been impressed with their professionalism and technical know-how. Having them as a member will certainly be a great benefit to the group as a whole."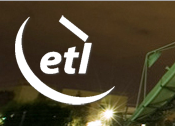 Ian Hilditch, Managing Director, ETL, said: "Satellite interference is an significant challenge for the industry and it is something we are tackling with our range of products and solutions. We are pleased to join IRG to lend our support to the important global initiatives."

IRG will be hosting a "Cream tea with a champagne twist" From 2pm to 3pm in the Eutelsat Balcony Suite, Hall 1, BM 26, Sunday 13th September, at IBC.

ETL will be exhibiting on booth 1.A33 at IBC from 11th – 15th September.