[SatNews] Entry to IBC2015 is free, but not for long—the deadline for registration has been specially extended to August 21, after which the fee will be 70 euros.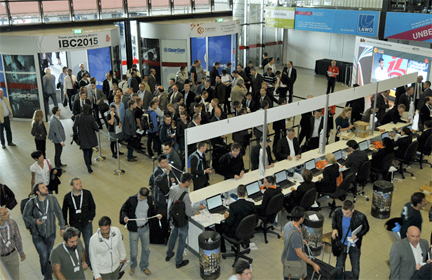 With exciting new feature areas and events announced, free-to-attend sessions in the IBC Content Everywhere Hub and Technology in Action Theater, networking opportunities with Touch & Connect, an unmissable line-up of speakers in the IBC Conference and exciting new products on the show floor—IBC2015 is bigger and better than ever.
Reinventing Touch & Connect
An essential part of the build up to the show, an invaluable tool onsite, and an indispensable record of it afterwards, Touch & Connect reinvents IBC2015. Every single attendee to IBC2015 will have Touch & Connect access via an online portal available 365 days a year. Book your passport to IBC digital communication and register here.
The Road Ahead for MENA
Enable a new product for the Internet of Things and use it in less than 15 minutes for free with UPnP at CableLabs' demo. Plus VisualOn and V-Nova share advanced compression techniques among independent panel discussions and product demonstrations at the IBC Content Everywhere Hub. Book today to secure discounts worth hundreds of Euros.
Time Warner Discusses VoD and SVoD
VoD and SVoD are fast becoming key to the bottom line, a route for advertisers who want better targeting and a way to interact directly with viewers. Join senior executives from All3Media, Havas Media Group and Time Warner Cable Media and learn if VOD is the new broadcasting gold? Book an incredible value Silver Pass.
Other special topics will include...
Driverless cars, Super Hi-Vision in HDR and video experiences beyond 8K, audio for virtual reality and 4D haptics at IBC Future Zone
The cinematographer's view of high dynamic range from Curtis Clark ASC in the IBC Big Screen Experience's thorough examination of HDR.
Coders, developers, UX and UI specialists and data scientists descend on IBC2015 to brainstorm ideas you may not have thought of. IBC Hackfest invites you to join in.
What do Ripple Networks, Optispeech, Rip-Tie and Sorenson Media have in common? All are primed for lift off on the IBC Launch Pad.