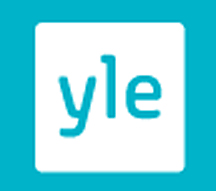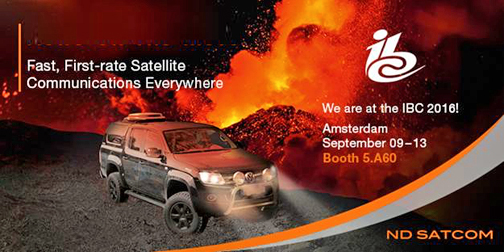 Yleisradio Oy (Yle), Finnish Broadcasting Company, produces, publishes and distributes audio-visual and multimedia materials ranging from news and current affairs to sporting events, documentaries to premium entertainment.
Earlier this year, Yle commissioned ND SatCom to provide a turnkey production Satellite News Gathering (SNG) vehicle using ND SatCom's SKYRAY antenna for Yle's live content gathering across Scandinavia and Europe. For Yle, two features of the ND SatCom RF system were essential in their decision making: (1) transmit in extreme geographical and climatic conditions, and (2) enable future 4K/UHD transmissions at very high bitrates. For instance, the Arctic Lapland Rally covered by Yle takes place in Lapland in late January where the typical conditions are strong winds and day temperatures below -30OC.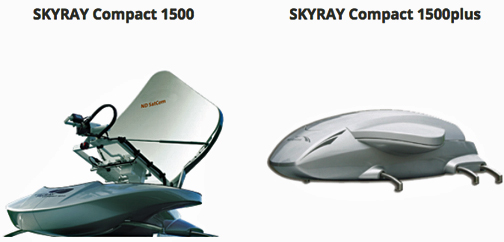 With an operational temperature range of -30OC to +55OC (survival -40OC to +60OC) and an operational wind speed of 100km/h (survival 140km/h), the SKYRAY antenna fit the bill for Yle. The antenna's maintenance-free positioner is exceptionally robust and the operation is also intuitive, thanks to the unit's patented Auto-Pointing System (APS). This APS first extrapolates from the compass and GPS data and then fine-tunes the uplink polarization to ensure an optimized transmission, certified by all major satellite operators. The result of the cooperation between the two companies will also enable Yle to transmit a 4K/UHD signal in the future.

Tapani Lerkki, Head of Contribution and Communication ccts at Yle, said, "We had the most demanding physical requirements in mind, with the need for a rugged, hard-working solution that does the job and keeps going when the going gets tough. The choice to rely on SATCOMs for our outdoor contribution was a necessity because of the remote locations we operate in—with the SKYRAY MAS 1900, we can support our journalists and producers by sending the video content efficiently and safely. We have end-to-end control of the full contribution network, while maintaining high reliability, even at high data rates and in demanding conditions."
ND SatCom is also attending IBC2016 and there product offerings may be viewed at Stand 5.A60.