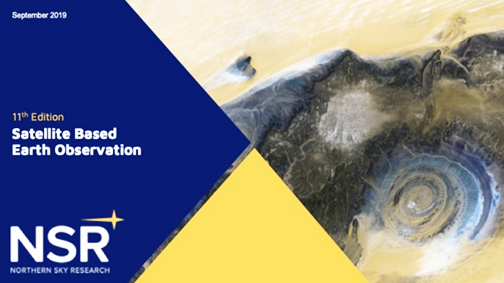 NSR's Satellite-Based Earth Observation (EO), 11th Edition report, just published, projects Earth Observation (EO) satellite data and services represent a $56 billion cumulative revenue opportunity over the next ten years, growing to $7.2 billion annually in 2028 — the demand for more data and insights will be driven by upcoming constellations, high-volume data pipelines, and subscriptions for insight services.
As the industry continues to shift from imagery to insights, NSR's Satellite-Based Earth Observation (EO) 11th Edition report shows a greater opportunity for downstream Information Products and Big Data analytics services, once issues of supply, distribution, and customer channels are overcome. In the near-term, data and imagery retain their value, even as volume-based platforms and subscriptions grow more prominent. Furthermore, NSR's analysis of the commercial opportunity for non-imagery data indicates these applications show promising growth potential.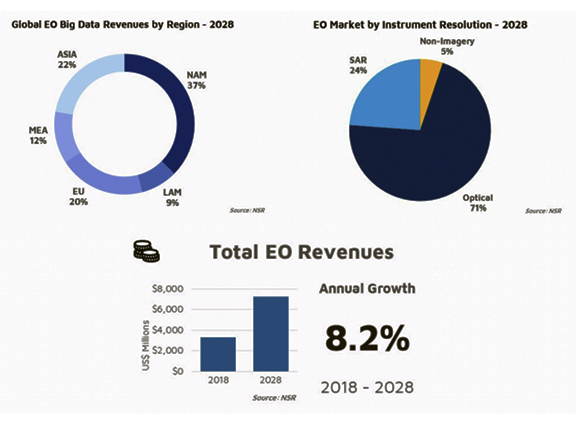 Given the many newcomers entering the EO business, the considerable costs and bottleneck of satellite constellation manufacturing and launching, and the growing pressure on the value of data; the market is expected to face consolidation. In recent years, satellite operators have begun aggressive horizontal and vertical integration.
Despite challenges, NSR's Satellite-Based Earth Observation (EO), 11th Edition report shows stronger growth than in previous years, owing to collaboration and technological development along the value chain, segmenting and forecasting the revenue opportunity for seven market verticals, across 5 regions, via four segments, three data types, and eight instrument resolutions.
Dallas Kasaboski, NSR Senior Analyst and report author, said that currently there are strong, competing forces in the EO industry with technology pushing for volume and variety of data imagery. However, as each customer is different, challenges of scale exist. Traditional, usually government-based, contracts and funding for the provision of high and very high-resolution imagery dominate the market. Although being seen is the extraction of insightful, business intelligence from satellite data; change and scale are complicated and expensive. More supply, or options, does not necessarily mean more business.
Kasaboski added new operators are sure to bring highly persistent data, delivered through advanced pipelines, mostly stored on, and managed from, the cloud. But competing with established players, or failing to gain key customers and distribution channels, it will create major obstacles to growth. There is ample opportunity in this market, but there is also redundancy, and an oversupply of potentially directionless data.