So far, so good, on the last day before the launch and ...
everything is progressing toward the ULA Delta IV launch carrying the GPS III SV02 mission for the U.S. Air Force Space and Missile Systems Center. The mission is set to lift off on Thursday, August 22 from Space Launch Complex-37 at Cape Canaveral Air Force Station in Florida. Today's forecast shows a 80 percent chance of favorable weather conditions for launch. The 27-minute launch window opens at 9 a.m. ET.
Launch Forecast Summary:
Overall probability of violating weather constraints: 20 percent
Primary concerns: Cumulus Cloud Rule,
Overall probability of violating weather constraints for 24 hour delay: 30 percent
Primary concern: Cumulus Cloud Rule, Flight Through Precipitation
The Delta IV Rocket
United Launch Alliance's Delta IV rocket has served the nation's high-priority U.S. Air Force and National Reconnaissance Office space programs with distinction since entering service in 2002.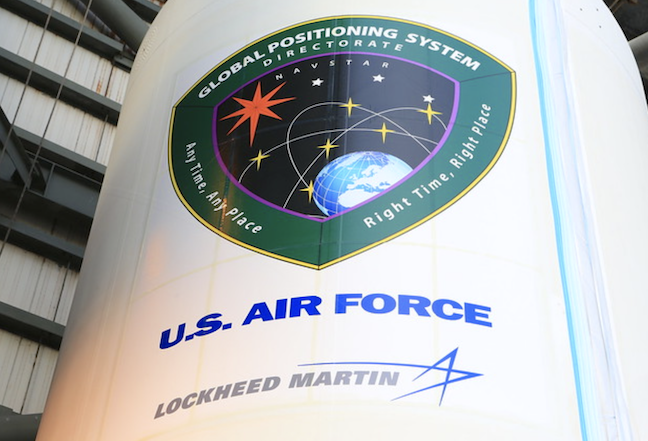 The vehicle also launched NASA's Orion capsule on its first orbital test flight and sent the Parker Solar Probe on its journey to become the fastest robot in history while surfing through the sun's atmosphere. Having flown 38 missions in a variety of configurations ranging from medium-lift to heavy-lifter, the Delta IV continues the legacy of the Delta rocket family that dates to 1960. GPS III SV02 will launch aboard a Delta IV Medium+ (4,2) rocket that features one hydrogen-fueled common booster core, two solid rocket motors and a four-meter-wide Delta Cryogenic Second Stage. The payload is protected during atmospheric ascent by a composite payload fairing.
Statement from United Launch Alliance
Cape Canaveral Air Force Station, Florida, (August 20, 2019) – A United Launch Alliance (ULA) Delta IV rocket is in final preparations to launch the second Global Positioning System III (GPS III) satellite, nicknamed Magellan, for the U.S. Air Force Space and Missile Systems Center. The launch is planned for August 22 at Space Launch Complex-37 from Cape Canaveral Air Force Station.
The Delta IV family of launch vehicles combines design simplicity, manufacturing efficiency and streamlined mission and vehicle integration to meet customer launch requirements. GPS III SV02 will be the 29th and final flight of the Delta IV Medium rocket and the 73rd GPS launch by a ULA or heritage vehicle.
"As we prepare to launch the final Delta IV Medium, we look forward to continuing its legacy through the purpose-built Vulcan Centaur," said Gary Wentz, ULA vice president of Government and Commercial Programs. "We are proud to continue our strong support of the GPS program with this launch."
The GPS III system, built by Lockheed Martin, represents the next step in modernization of the worldwide navigation network with a new generation of advanced satellites offering improved accuracy, better anti-jam resiliency and a new signal for civil users.
This mission will launch aboard a Delta IV Medium+ (4,2) configuration vehicle, which includes a 4-meter Payload Fairing and stands at 207 ft. The common booster core for Delta IV is powered by the RS-68A engine, and the Delta Cryogenic Second Stage is powered by the RL10B-2 engine, both supplied by Aerojet Rocketdyne. Northrop Grumman provided the two solid rocket motors.
ULA has a track record of 100 percent mission success with 134 successful launches. With more than a century of combined heritage, ULA is the world's most experienced and reliable launch service provider. ULA has successfully delivered more than 130 satellites to orbit that provide Earth observation capabilities, enable global communications, unlock the mysteries of our solar system, and support life-saving technology.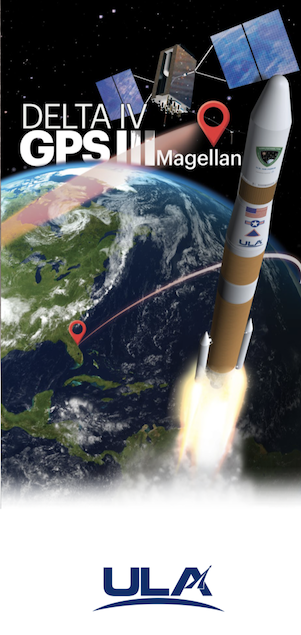 Mission
A United Launch Alliance (ULA) Delta IV Medium+ (4,2) rocket will deliver the second GPS III spacecraft, "Magellan," to a medium Earth orbit (MEO) for the U.S. Air Force Space & Missile Systems Center. Liftoff will occur from Space Launch Complex-37 at Cape Canaveral Air Force Station, Florida.
It is estimated that more than four billion military, commercial and civil users worldwide connect with the Global Positioning System (GPS). Today this advanced technology, developed for and operated by the U.S. Air Force, is an essential part of daily life.
As essential as GPS is, the Air Force has committed to modernizing the entire system —from the ground system to the satellite constellation— with new technology to make way for advanced capabilities and to build in flexibility to address future mission needs.
Contracted by the U.S. Air Force, Lockheed Martin develops and builds GPS III, an entirely new GPS satellite, more powerful than any GPS space vehicle previously launched.
The key baseline features for GPS III include:
Improved Accuracy: 3x better accuracy for military users than any previous GPS satellite.
Enhanced Anti-Jamming: Up to 8x improved anti-jamming capabilities to help ensure important signals used by our warfighters are not interrupted.
More Robust Design: Adding to the satellite's resiliency, spacecraft life will extend to 15 years, 25 percent longer than any other GPS satellites on-orbit today.
New L1C Civil Signal: This makes GPS III the first GPS satellite broadcasting a compatible signal with other international Global Navigation Satellite Systems, like Europe's Galileo, improving connectivity for civilian users.