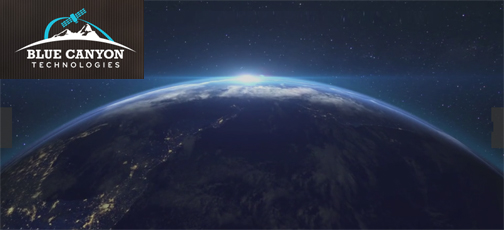 In its first flight, the XACT attitude control system from Blue Canyon Technologies (BCT) is providing high-performance guidance, navigation, and control to the orbiting Miniature X-ray Solar Spectrometer (MinXSS) smallsat.
A 3U CubeSat funded by NASA and led by the University of Colorado's Laboratory for Atmospheric and Space Physics, MinXSS requires precision pointing to carry out its scientific objectives. Integrating an array of high-performance miniaturized space sensors and actuators, including BCT's Nano Star Tracker and Micro Reaction Wheels, the XACT unit provides state-of-the-art attitude control for small spacecraft like MinXSS. On-orbit telemetry from the XACT unit and independent spacecraft instrumentation indicates 1-sigma cross-axis pointing error better than 8 arcseconds, which is less than the width of the Empire State Building as viewed from Los Angeles.

MinXSS was deployed from the International Space Station on May 16th and is designed to collect soft X-ray emissions from the sun that will help scientists better understand space weather in which solar storms impact our space-based technology such as communication and navigation systems.
The mission exemplifies the increasing capability of low-cost CubeSat missions, which have proliferated as enabling technology has developed.
In the coming years, BCT's XACT attitude control system and XB-1 spacecraft bus are slated for dozens of flights in support of a wide array of scientific, commercial, and defense missions.
---
Dates Set For The SmallSat Symposium—2017
Prepare To Be Wow'd
To assist in acquiring the knowledge and expertise to enter and/or continue the acquisition of technology and product to become a successful smallsat actor, Satnews Publishers is delighted to announce that the SmallSat Symposium workshops will be held on February 6, 2017, and the conference will be conducted from February 7 to February 8, 2017, at the Computer History Museum, which is located at 1401 North Shoreline Boulevard in Mountain View, California.
A veritable "Who's Who" of subject-matter experts have already committed to presentations during this impact-filled symposium:
Chad Anderson, Managing Director Space Angels Network
Jason Andrews, CEO Spaceflight Industries David A. Anhalt, Vice President and General Manager Iridium PRIME
Chris Baugh, President NSR - Northern Sky Research
Peter Beck, CEO & CTO Rocket Lab
Dr. Sami BenAmor, Director of Marketing Thales Alenia Space
John Booher, Partner Hogan Lovells
Dr. Sean Casey, Managing Director Silicon Valley Space Center
Carissa Christensen, Managing Partner The Tauri Group
Craig Clark, Founder Clyde Space Ltd.
Mike Collett, Founder and Managing Partner Promus Ventures
James Crawford, Founder and CEO Orbital Insight
Randy Culver, CEO AMERGINT Technologies
Stuart Daughtridge, Senior VP Advanced Technology Kratos
Dr. Lars Dyrud, CEO OmniEarth
Dr. Shahin Farshchi, Partner Lux Capital
Dr. Jenny Gautier, Director of Commercial Programs The Aerospace Corporation
Dr. Steve Goldberg, CEO & Co-Founder Venrock
David Hartshorn, Secretary General GVF - Global VSAT Forum
Susan J. Irwin, President Irwin Communications, Inc.
John P. Janka, Partner Latham & Watkins LLP
Adam Keith, Managing Director Euroconsult Canada
Debra Facktor Lepore, VP and GM of Strategic Operations Ball Aerospace & Technologies Corp
Tony Lin, Counsel, Washington, DC Hogan Lovells
Dr. Clare Martin, Vice President of Programs Surrey Satellite Technology US
Clayton Mowry, President Arianespace
Carlos Niederstrasser, Business Development & Special Initiatives Orbital ATK
Sunil Nagaraj, Vice President of Marketing and Communications Bessemer Venture Partners
Dara A. Panahy, Partner Milbank, Tweed, Hadley & McCloy
Will Pomerantz, Vice President for Special Projects Virgin Galactic
Dr. Alex Saltman, Senior Vice President GeoOptics Inc.
Randy S. Segal, Partner, Co-Lead Satellite Practice Hogan Lovells
David Strobel, CEO and Program Manager (PM) Space Micro
Chris Stott, Chairman & CEO (PM) ManSat
Tom Stroup, President SIA - Satellite Industry Association
Professor Sir Martin Sweeting, Founder and Executive Chairman Surrey Satellite Technology Ltd.
Stig-Are Thrana, U.S. Sales Director and Head of Kongsberg Silicon Valley Office Kongsberg Satellite Services
Dr. Joe Thurgood, Vice President Corporate Development and Marketing Hera Systems
Dr. Marco Villa, President & COO Tyvak Nano-Satellite Systems
Tony Wilkey, Senior Vice President AvL Technologies
Bruce Yost, Project Manager NASA Ames Research Center
Louis Zacharilla, Director of Development Society of Satellite Professionals International (SSPI)
Bonus—the first 100 registrants will qualify for a $200 discount on the standard event admission... take advantage of this offer... don't dawdle... and register now at this direct link.