The United States Geospatial Intelligence Foundation (USGIF) recently opened its own state-of-the-art event space, known as the Trajectory Event Center (TEC), in Herndon, Virginia.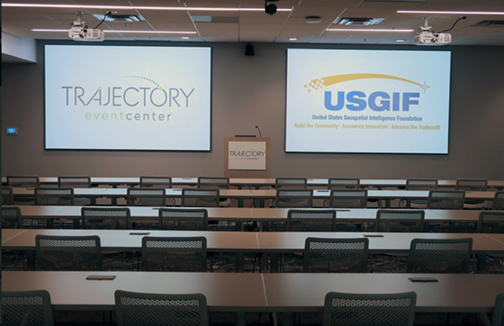 The TEC will be a year-round resource for the geospatial intelligence (GEOINT) community and any organization interested in hosting events in the Dulles Technology Corridor. Featuring flexible meeting spaces for up to 300 people, cutting-edge audio-visual technology, and live streaming capabilities, the TEC is an ideal location to host corporate events, training sessions, sales meetings, product launches, receptions, table-top exhibits, hack-a-thons, and much more.
The TEC is in proximity to Dulles International Airport and a four-minute walk from the planned Innovation Center Metro stop on the silver line. Ample complimentary parking is also available.
Anyone interested in viewing or potentially hosting an event at the new space is invited to stop by the TEC Open House from 8:00 a.m. to 6:00 p.m., Thursday, September 19, at 13665 Dulles Technology Drive, Suite 150, Herndon, Virginia, 20171.
The Honorable Jeffrey K. Harris, Chairman of USGIF's Board of Directors, said whether it is USGIF's Young Professionals Group looking to combine networking and professional education, or providing a flexible space to accommodate the cadences of USGIF Working Groups, the organization recognized the potential for the TEC to help USGIF advance the GEOINT Community.
USGIF COO Karin Soyster Fitzgerald noted the TEC is a world-class facility that is an ideal venue to host future USGIF events and is also a terrific alternative to the typical hotel ballroom. USGIF looks forward to offering this resource for all members of the GEOINT Community and beyond.
Visit tecdulles.com or email info@tecdulles.com to learn more or to inquire about pricing and availability.