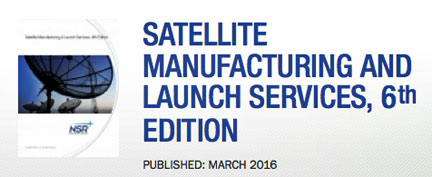 [Satnews] NSR's Satellite Manufacturing and Launch Services, 6th Edition report has just been published and identifies non-GEO markets as the leading growth opportunities for manufacturing and launch in the next ten years, with expected cumulative revenue generation exceeding $175 billion of the $285 billion total market.
GEO markets will, however, remain a key source of revenue as commercial GEO communications will continue to be the highest value market segment at a stable $6 billion per year.
Following a very successful 2014, manufacturing contracts declined 42 percent in 2015 with only 83 satellite orders placed by year-end. Both government and commercial players contributed to this sluggish market. 2015 launch rates were stable at just above 100 satellites, a positive sign in a year marred by three vehicle failures. Nonetheless, the lingering impact of 2014's launch delays compounded by those resulting from 2015's failures mean that all main providers are starting 2016 with full manifests that will be critical to clear for potential market growth to be realized.

NSR forecasts more than 1,800 satellites will be launched globally during the next decade, half of which will be part of a commercial Communications or Earth Observation constellation.
"Ensuring ROI was the focal point of 2015—commercial operators in particular were hesitant to commit to additional investments in the face of declining capacity prices, new market entrants, and an uncertain launch environment," said Carolyn Belle, NSR Senior Analyst and report author. "Mounting complexity of satellite design and capabilities, alongside more in-depth verification of the long-term business case of a procurement, reflects the increasingly competitive nature of the satellite industry moving forward.

"Growth in end user applications, fueled by constant connectivity requirements, Big Data, and strained security environments, is creating new opportunities in the satellite manufacturing and launch market," she continued. "Emerging players are introducing disruption across the value chain while traditional manufacturers and launch service providers adapt their experience to evolving customer needs. For those that achieve the right blend of technology, understanding of customer needs, and company culture, demand for satellite manufacturing and launch services offers healthy opportunities in the coming decade."