Maxar Technologies has announced that EarthWatch, the company's online subscription imagery access product.

Launched one year ago, EarthWatch allows customers to view, stream, download and exploit imagery from Maxar's 100-petabyte library and enables customers to access analytics to extract insights from imagery at scale to make better and faster decisions.
Maxar previously announced some EarthWatch customers in May of 2019 in industries such as information services and analysis, automotive, insurance, governments and non-government organizations. The EarthWatch customer base has grown since then, with many successful use cases.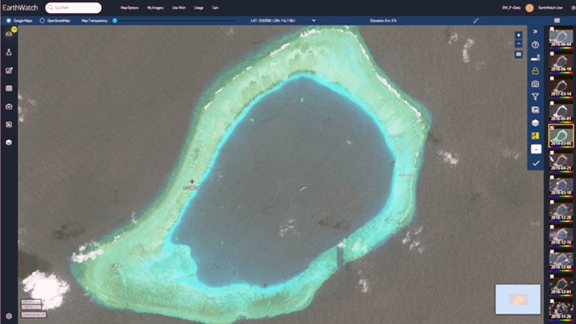 Monitoring visual changes on the Earth's surface, CSIS has been using Maxar high-resolution satellite imagery through EarthWatch to monitor Chinese island building activities in the South China Sea. The image to the left shows the development of Subi Reef from 2014 through 2019 as observed by Maxar's satellites.
Access to premium geospatial intelligence enables humanitarian organizations, energy and insurance companies to monitor facilities and conditions on the ground and rapidly plan informed responses. With Maxar's FirstLook service, EarthWatch customers can access relevant satellite imagery within hours of image acquisition, allowing them to make timely decisions.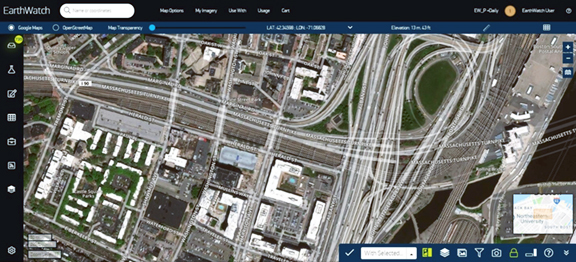 Customers stream Maxar's high-resolution satellite imagery to create high-definition (HD) maps for location-based services, Advanced Driver Assistance Systems (ADAS) and self-driving cars. The best HD maps leverage the global coverage, currency and accuracy of Maxar's satellite imagery, delivered via EarthWatch as a foundational data source.
Many EarthWatch customers are investing in their own machine learning (ML) algorithms. An EarthWatch subscription provides these customers with access to 100 petabytes of historical satellite imagery, which is valuable as ML training data. These algorithms help customers unlock valuable insight from current satellite imagery of their areas of interest, allowing customers to focus their analysis on the most relevant and important locations.
This EarthWatch screenshot shows a Maxar satellite image of San Diego International Airport with red Building Footprints, which are derived from machine learning, overlaid on the image.
Customers have two options for how to access content from EarthWatch: through a web browser or an API. The easy-to-use browser interface, shown above, allows customers to quickly search and view all premium content online. This interface also enables customers to easily manage and download high-value content from as far back as 2000.
A subscription to EarthWatch also enables customers to access imagery and related metadata outside of the web application through most Open Geospatial Consortium (OGC) services, as well as application plug-ins for Esri ArcMap, Esri ArcGIS Pro (coming soon!), and Google Earth. This simplifies the discovery, download, integration and analysis of high-resolution satellite imagery for EarthWatch customers that want to work in their own environments to complete analysis and projects.
Maxar has been continuously improving EarthWatch since its launch, including adding new languages for the user interface and user guide and introducing Image Exploit Mode for processing imagery on-the-fly.
Maxar is hosting an EarthWatch webinar on Wednesday, August 14, 2019, to demo the latest updates to the platform. Select this direct link to register for the webinar.
Story by: Peter Kern, EarthWatch Senior Product Manager,
Maxar Technologies