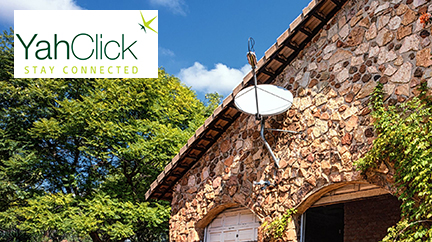 YahClick and the firm's partner, Hughes Network Systems, will showcase a portfolio of transformative satellite services at CABSAT 2019 — the service will place a particular emphasis on its suite of e-Learning and e-Health solutions.
Visitors will see live demonstrations and have the opportunity to participate in technical discussions on e-Learning and e-Health solutions throughout the event, held on March 12-14 at Dubai World Trade Centre. Joining YahClick during the live demonstrations will be Integrated Technology Group (ITG) and Tech4Life, YahClick's e-Learning and e-Health ICT partners.
The integration of YahClick's high-performance satellite broadband connectivity and the platforms provided by ITG and Tech4Life provides a one-stop-shop solution for the advancement of education and health in the unserved and underserved communities across Africa, the Middle East, and Central and South West Asia.
Meanwhile, working alongside Tech4Life, YahClick e-Healthcare ecosystem provides access to crucial healthcare services in remote areas of the world by delivering a consistent, affordable and stable broadband link between major hospitals and isolated villages. According to a World Economic Forum study, 29 percent of Sub-Saharan Africa's population lives more than two hours from the nearest hospital**, highlighting the scale of the issue in one of YahClick's focus regions.
Executive Comments
Farhad Khan, CEO at YahClick, said CABSAT is an important event for demonstrating the life-changing benefits of YahClick's education and healthcare solutions. Access to these services is significantly beneficial to communities that would otherwise continue to experience a shortage in expertise in these two sectors that are crucial drivers to socio-economic development. The company's work with ITG and Tech4Life demonstrates how the firm is beginning to overcome such issues through purpose-built digital solutions — powered by dependable satellite broadband connectivity. YahClick is thrilled to be joined by the firm's ICT partners to explain how together, boundaries are being broken and human potential is being unlocked across the global community.
Islam Al-Qasrawi, ITG Regional Sales Manager, added that education is a pillar of any community, yet many remote areas find themselves facing fewer opportunities for personal and professional development simply because of a lack of education infrastructure. Thanks to the trusted satellite connectivity provided by YahClick, ITG's digital learning tools and resources are now accessible to isolated schools and education ministries across every market YahClick serves.