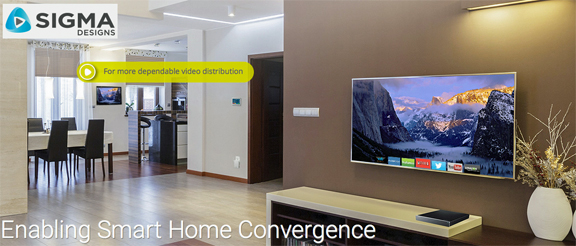 [SatNews] Sigma Designs® (NASDAQ: SIGM), has introduced G.hn Prime™, the latest advancement in powerline technology that provides unmatched performance on the Sigma G.hn CG5300 and CG5200 series chipsets.
G.hn Prime-enabled chipsets offer plug-and-play simplicity for seamless expandability throughout the home, and can be used to provide an end to end solution in stand-alone bridges, set top boxes, residential gateways, TVs and even as their power supplies. Sigma Designs is showcasing their new G.hn Prime technology and the latest generation CG5300 chipsets at IBC2015, now underway, in Amsterdam in Hall 1, balcony suite BM7.

G.hn technology offers a single, broadly supported standard for connecting networked devices over any existing wired infrastructure (powerline, coax and phone line) in the home. With the rapid expansion of 4K (Ultra-high Definition) content and the ubiquity of multi screens in the home, the need for a robust, high throughput home networking fabric is more demanding than ever. The ability to deliver dependable coverage in real home environments that are plagued with interference obstacles such as surge protectors and appliances and the congestion challenges of MDUs is becoming essential for service providers to meet their customer's requirements.

G.hn Prime™ takes advantage of on-chip acceleration engines and algorithms to move data at twice the speed of the next-closest competitor's product under TCP protocol which is the dominant delivery protocol for today's streaming content. G.hn Prime is available as a firmware update included with Sigma's CG5300 and CG5200 chipsets. G.hn Prime also allows seamless expansion throughout the home. Sigma's premium G.hn solutions ensure whole-home coverage through co-existence with G.hn, HPAV and HPAV2 devices.