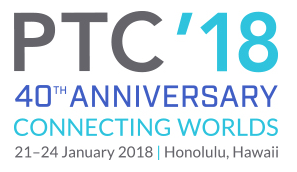 A nice location for a conference when much of the U.S. is freezing—Honolulu, Hawaii. This is the 40th anniversary of the annual PTC'18 conference held at the Hilton Hawaiian Village®, Waikiki Beach Resort which will host many workshops, and one that is of special interest is ...

WTA Satellite Workshop @ PTC'18 The Teleport Opportunity
The business environment in which teleport operators work is being turned upside by technology and market change. Their established businesses face disruption from new models of connectivity (GEO HTS, MEO and LEO), the rising domination of software over hardware, customer demands for seamless global service, and the opportunity to innovate up the value chain to meet new customer needs – if only they can bring the depth of technology knowledge and high-speed innovation required.
Faced with these challenges, how are teleport operators in different market segments adapting? What market opportunities are they targeting and where are they investing their capital? What are their biggest obstacles to growth and the biggest threats to their survival? Learn more here.
Moderated by: Bruce Elbert, President, Application Technology Strategy, Inc.
Panelists:
Christopher Stott, Chairman & CEO, ManSat LLC
Leslie Klein, President and CEO, C-COM Satellite Systems Inc.
Richard Swardh, Senior Vice President, MNO, Comtech EF Data
The workshop takes place on January 21, 2018 at 9:00 am PST in the South Pacific 1 Room as part of PTC'18. PTC's annual conference is the Asia-Pacific's telecommunications event. The Conference provides all attendees with a three-day platform to focus on planning, networking, and discovering what the new year will bring.