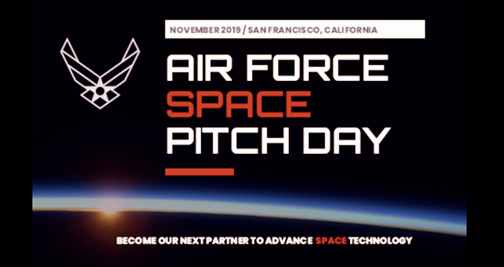 The USAF Space Command's Space and Missile Systems Center (SMC) leads the first AF Space Pitch Day event, November 5 and 6 in San Francisco, California.
AF Space Pitch Day is a two-day event designed to showcase the U.S. Air Force's ability to partner and develop modern business practices that enable the development of a small business ecosystem of dual-use cutting edge technologies that support the Military Industrial Complex to enable the fielding of fast, relevant and affordable solutions.
During the event, the most promising small businesses will be invited to pitch their ideas live to a team of Air Force experts, commercial investors and defense partners for an opportunity to compete for an "on the spot" contract award. These potential partners are currently undergoing the process of collaborating with Air Force warfighters to deliver a joint pitch to Program Executive Officers (PEOs) establishing a direct connection to military warfighters.
The event will highlight an exhibit hall where more than 60 different space-based companies will display their products and services. It will feature a host of panelists who will answer questions about the current trends in space acquisitions that use innovative practices to connect with small businesses.
Lt. Col. Rock McMillian, Lead Project manager, SMC Portfolio Architect Corps, said the U.S. Air Force is committed to procuring things differently and recognizes the need for faster and smarter methods to quickly identify, procure and develop military space solutions. AF Space Pitch Day is one way the USAF is bridging the gap between small businesses and the military.
Lt. Gen. John Thompson, Program Executive Officer for Space, added that Air Force Space Pitch Day is designed to be an event to bring technologies to the warfighters charged with protecting the space domain. The USAF is fielding tomorrow's Air Force faster and smarter by changing the way things are purchased, from getting the capability from the lab bench to the warfighter faster; using new authorities given to the USAF by Congress.
For more information and to register for the Upcoming AF Space Pitch Day, log on to this direct link...