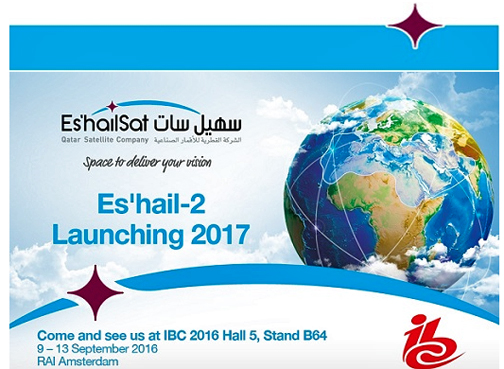 Currently broadcasting high quality HD content from their key MENA broadcast hotspot of 25.5 / 26 degrees East, Es'hailSat is offering attendees at IBC2016 a close view of their significant operations in Hall 5, Stand B64.
In addition to providing transmission and expansion opportunities for established news and sports channels, a growing number of local and regional Arabic channels are selecting Es'hailSat to launch their services in MENA. Es'hail-1 also supports VSAT and maritime services on the satellite's Ka-band payload.
With Es'hail-2 scheduled to join Es'hail-1 at the broadcast hotspot in 2017, Es'hailSat is currently implementing a number of products and services to be launched on Es'hail-2 when that satellite becomes operational next year. With high powered beam covering the entire MENA area, Es'hail-2 is well positioned to provide broadcasters the ideal platform to distribute their content across the region.
The company has also started construction of their own teleport, which will be operational in 2017. The new facility—at a dedicated site north of Doha—will support TT&C and capacity management for Es'hailSat satellites as well as a wide range of teleport services, such as uplink, downlink, turnaround, multiplexing, encoding and playout. The high-tech teleport will also provide back-up studios for TV channels and serve as a disaster recovery facility for broadcasters and will be linked with key media broadcasters by a redundant, dedicated fibre optic link.
According to Ali Ahmed Al Kuwari, the President and Chief Executive Officer of Es'hailSat, with Es'hail-2 and the new teleport coming online in 2017, the company has been scaling up marketing and sales efforts and IBC is an ideal venue to showcase the firm's capabilities and service offerings in the international arena.