"Like any good deal, the combined value of putting the two companies together is greater than the sum of the businesses individually"... and so they did and will reap the benefits.
It all began in April of 2016, X2nSat and On Call Communications announced their formal partnership to expand and enhance satellite resources to each of their customer bases. As a result over the last two years this has meant increased reliability, increased stability, and vastly expanded availability of service in both capacity and geographic footprint.

Because of this success the satellite network operator X2nSat has reached a definitive agreement to purchase On Call Communications, a provider of mobile satellite solutions. The merger combines the two companies to bring together the customer base of On Call Communications with the infrastructure and support network of X2nSat.
In 2015 On Call introduced QuickSpot service that was the first of its kind, while X2nSat has been investing in significant terrestrial infrastructure of fiber and satellite gateways that enable the best use of the latest satellites available.
X2nSat CEO Garrett Hill said that like any good deal, the combined value of putting the two companies together is greater than the sum of the businesses individually. On Call's existing customers will gain access to X2nSat's impressive infrastructure, including their Petaluma, California and Las Cruces, New Mexico satellite gateways, hubs, and networks. In turn, X2nSat gains On Call's proprietary technology developed to give customers IP-based occasional use bandwidth. This scheduling system lets customers automate booking and operating on occasional use satellite space. The scheduling system operates for On Call's broadcast and federal government clients now.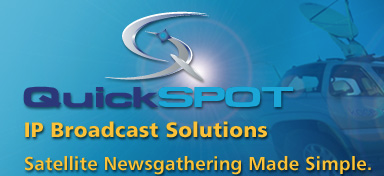 Hill continued saying that the technology they are buying is incredible. The vision that Jim Gilbert [CEO of On Call Communications] had for people who need short term bandwidth is the best Hill has seen in the industry, and the technology Gilbert's developed to deliver it quickly and efficiently is incredible. This is a great way for customers who need 100 mb of bandwidth for just a day, or even a few hours. X2nSat plans to leverage this technology for applications in their current verticals, including healthcare business continuity, oil exploration, and more.
Jena Blazer, Director of Sales and Marketing added that X2nSat's twenty-plus years of experience lends itself to On Call's customers, who gain access to its vast product and services line, private network engineers, and 24x7x365 Global Network Support Center (GNSC). They look forward to onboarding everyone as seamlessly as possible, and providing them with the all-star support they're known for.
X2nSat expects the networks to be fully combined by the end of 2018.