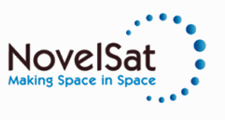 NovelSat has announced that VRT (Vlaamse Radio -en Televisieomroeporganisatie), the Belgium national public service broadcaster for the Flemish Region and Community, has once again selected Novelsat's broadcast solution to deliver live coverage of the Tour de France, categorized as the most prestigious bicycle race in the world.
The on-the-road coverage of the Tour de France was delivered to VRT Broadcast Center from Satellite News Gathering (SNG) vans of
Videohouse
, a leading European provider of broadcast facilities. The SNG vans provided live broadcast coverage along the 3,500 km. tour route which included challenging terrain and conditions.
Installed on both VRT Broadcast Center and Videohouse SNG vans, NovelSat's solution delivered significant savings of satellite capacity using their NovelSat NS4™ waveform, NovelSat DUET™ CEC™ (carrier-echo-cancellation) band reuse technology and dual channel (ASI+IP) functionality for simultaneous bi-directional transmission of video and IP data.
NovelSat's solutions deliver spectral efficiency and transmission performance, enabling broadcasters to transmit more bits and channels, and to gain significant savings in satellite bandwidth.
All the software-based efficiency-enhancing features of Novelsat solution work together seamlessly out of the box, simplifying setup and operation.
Tom Grenson, System Engineer of ICT Networking & Telecom at VRT, said Novelsat technology is providing major benefits for large scale events, such as the Tour de France. VRT enjoyed the high-efficiency and high-performance transmission delivered by NovelSat solution.
Gary Drutin, CEO of NovelSat, noted that the company is proud to enable the live broadcast of the Tour de France. The partnership with VRT and Videohouse has demonstrated, once again, the benefits provided by the firm's connectivity solutions.