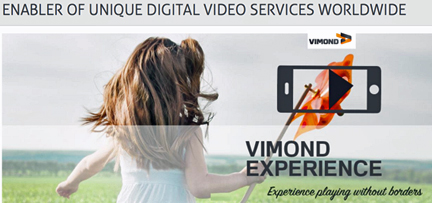 [SatNews] At IBC2015, Vimond Media Solutions (booth 14.E26) will introduce version 1.7 of its Vimond Highlights solution for real time extraction of frame accurate clips from live video.
Among the advances in version 1.7 are support for Chrome with MPEG-Dash, the ability to update already-created clips, and many performance enhancements. Vimond Highlights is a new approach to live-to-VOD conversion, combining a dedicated focus on rapid short-form clip production and distribution to social media with broadcast quality recording and editing tools. Vimond Highlights simplifies production by reducing the number of tools needed to cut and publish online from typically 4 or 5 to just one. Available as a SaaS or installed on-site, Vimond Highlights 1.7 offers native support for MPEG-Dash, HLS, Smooth Streaming and RTMP formats, accepts multi-bitrate source streams, and can ingest streams encrypted with any of the AES-128 based DRM technologies.

Vimond Highlights allows TV editors to access a live TV broadcast and create clips in a responsive web interface connected to the Vimond Highlights server, with frame-accurate scrubbing and editing, and editor-friendly keyboard shortcut controls. Users can create DVR windows for up to three hours' stream recording per window, for subsequent clip editing. Multiple DVR windows can be set up, and can record and create assets automatically through the API, using structured metadata or information from an EPG.
Vimond Highlights is in use by broadcasters for high-profile clip publishing for major sports and news coverage. Broadcast users include TV 2 (Winter and Summer Olympics), TV 4 (Winter Olympics), NRK (World Cup), DR (X Factor), and Reuters TV (Reuters TV News).
Executive Comment

"Viewers are becoming increasingly accustomed to seeing really topical video clips on social media platforms, but many broadcasters simply aren't able to get their content out on social media while it is still hot," said Miguel Silva, EVP Marketing and Sales at Vimond. "By the time the traditional production workflows have caught up, the peak attention window may be over. Vimond Highlights solves that problem, making it simple get clips out to the platforms of choice in a matter of minutes."