Alta Devices is exhibiting at the 32nd Annual Small Satellite Conference, being conducted in Logan, Utah, from August 4 to 9, at Booth #145.
The company is exhibiting and discussing the technology, materials and business issues surrounding smallsats and solar technology. This will include details about the recent introduction of Alta Devices Gen4 solar cell technology and displays of solar panels, smallsat innovations and smallsats from the firm's partners and customers. The company is featuring an ongoing presentation in their booth discussing the question, "How can you meet the power requirements of Space 2.0?"
Developers wish to take advantage of the low cost, ease of design and deployment, and flexibility of smallsats, relative to other types of spacecraft. The prospect of leveraging space for applications as broad as communications, farming, and mining has spurred growth in the smallsat industry across the globe.
While satellites have always used solar technology, the demands required of this technology are more challenging for SmallSats. To enable the autonomy of small satellites, solar solutions must generate significant power from small launch packages, be lightweight, and, most importantly, empower engineers to be creative and innovative in today's dynamic space industry. The best solar power for this new generation of space applications is efficient, lightweight, flexible, and scalable to constellations of satellites, without compromising design. Alta Devices unique solar technology meets these requirements, enabling accelerated growth of the industry.
Innovative satellite designs need solar power to match. Lightweight, thin, flexible and tough gallium-arsenide solar cells from Alta Devices enable designs that are not possible with other solar technologies. Whether it's coiled carbon fiber booms, flat-packed, polymer-based accordion arrays, or even inflatable structures, Alta Devices solar technology allows creative design approaches for maximizing power and effectiveness.
Alta cells provide a new level of mechanical and design flexibility for the small satellite industry by leveraging a patented, high-volume terrestrial manufacturing process to create high-efficiency solar arrays with excellent packing factor in a thin, flexible, and lightweight form-factor. This technology maximizes power while minimizing cost and launch-weight. Alta Devices is the world-record holder for single junction solar cells at 28.9 per cent efficiency (AM1.5). The newest generation product from Alta demonstrates a significant weight reduction from the previous version resulting in an improved power to weight ratio of up to 160 percent. Over time, these benefits will accrue to constellations of hundreds of small satellites.
Alta Devices is a Hanergy company.
---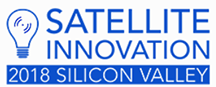 The growth of the smallsat industry borders on the phenomenal and plays extremely well with innovation... join the presentations and discussions of the numerous technology surges in the space and satellite industry, with an eye toward the business and financial side of these market segments, at Satellite Innovation. Event details, workshops, speakers and more information is all available at satinnovation.com.