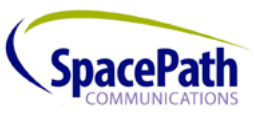 SpacePath Communications ('SpacePath') is launching a new range of redundant, high power uplink amplifier systems at IBC 2018.

Comprised of two indoor redundant controllers and two redundant sub-systems in 1:1 and 1:2 redundant and power combined configurations, the new products will be on display for the first time with SpacePath's range of high efficiency, high performance amplifiers and systems. The new product line-up includes:

SPC1U01 Indoor Controller

A 1:1 redundant controller in a compact, 1U design. Compatible with all STA-series amplifiers, the indoor control unit provides full remote control of up to two amplifiers and a redundant switch. The unit also provides easy-to-use control over an outdoor redundant amplifier system with full monitoring and control of amplifiers. The user-friendly design features attenuation setting, automatic gain control, go-to power, log/trend analysis and Ethernet output, enabling remote operation.

SPC3U02 Indoor Controller
A 1:2 redundant touch screen controller which features an integrated, graphical user interface. The indoor 3U unit provides full system control, and monitoring & control for each of three amplifiers in the system. For added functionality, an Ethernet output enables convenient remote operation.

Outdoor mounting redundancy systems

Available in either 1:1 or 1:2 redundant and power combined configurations, these lightweight, systems can be installed or removed for routine maintenance without interruption to a transmitting amplifier, and accomplished by a single person without the need of tools. Fully scalable, the 1:1 redundant system incorporates two amplifiers, while the 1:2 unit has three. Their IP-based, modular designs accept a wide range of compatible amplifiers providing a seamless, inbuilt upgrade path when more carriers or linear power is required.
The new redundant controllers and systems complement SpacePath's full range of products which are ideally suited to all mission-critical satellite communication segments, including, digital satellite newsgathering (DSNG), military satellite communications, large teleports, mobile applications and flyaway systems.
Executive Comment
Newton Burnet, Director, SpacePath Communications, said that as a UK manufacturer of satellite uplink amplifiers and sub-systems, the company's goal is to continually innovate with designs and functionality based on customer-driven feedback. Our expanded line-up of redundant, high power, uplink amplifier systems fulfills this objective and these will be displayed at IBC alongside our amplifier and system range that caters for all mission-critical SATCOM segments.