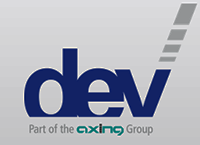 DEV Systemtechnik is expanding the company's product line with a combining matrix switch to meet the growing demand serving satellite uplink equipment.
Unlike distributing fan-out matrix devices, combining matrix switches allow several or all input signals to be routed into one output channel. The DEV 1975 can automatically switch signals according to signal levels. This allows a flexible arrangement of redundant capacity switching to guarantee constant availability in the event of signal failure. The matrix can be controlled and individually configured via SNMP or the DEV Web Interface and is available from 4x4 to 16x16 arrays.

DEV 1975 will be featured — for the first time — at the IBC in Amsterdam from September 14 to 18. The DEV booth will be located in Hall 5, Stand A15. Appointments for detailed discussions and demonstrations can be reserved anytime online at www.dev-systemtechnik.com or by e-mail at info@dev‑systemtechnik.com.
DEV Systemtechnik, part of the AXING Group, develops and manufactures a complete range of products and systems for optical and electrical transmission of Radio Frequency (RF) signals via coaxial cable or fiber. For more than 20 years, DEV has designed, engineered, and manufactured RF transmission equipment for satellite, broadcast, and cable applications. All products are built to meet the highest standards of system availability, reliability and manageability.
Executive Comment
Manfred Mettendorff, the Managing Director of DEV Systemtechnik GmbH, said that the return channel of satellite data networks is emerging in importance. While most transmission has been almost exclusively in one direction, DEV sees rising demand for bidirectional data traffic. This means that uplink stations, stationary and mobile, are becoming more important. To serve this need, DEV has expanded the firm's product portfolio with a combining, fan-in matrix.