Hughes Network Systems, LLC (HUGHES) has announced that Algérie Telecom Satellite (ATS) has selected the Hughes JUPITER™ System to enable satellite broadband service to home users and small-to-medium enterprise (SME) customers. The mission of ATS is to develop and promote satellite telecommunications throughout Algeria, the tenth largest country in the world and the largest in Africa.

ATS will launch satellite internet service employing the market-leading JUPITER System, including a hub and thousands of user terminals.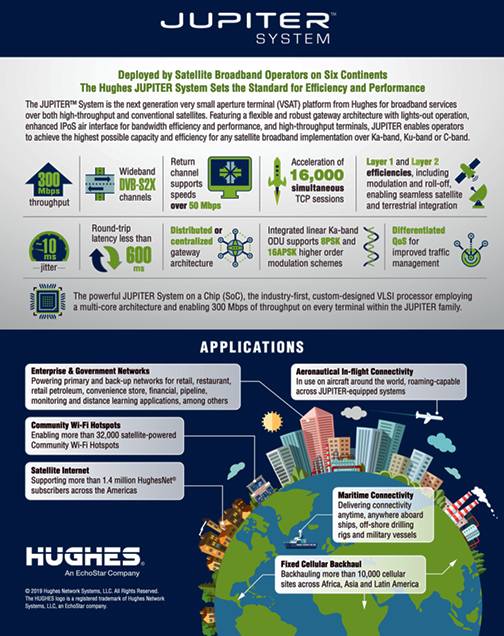 The JUPITER System is the nexgen, Very Small Aperture Terminal (VSAT) platform from Hughes for broadband services over both high-throughput and conventional satellites.
Employing the DVB-S2X standard for highly efficient use of satellite bandwidth, the JUPITER System powers services on more than 40 satellites around the world, and is the foundation for HughesNet®, the flagship satellite internet service from Hughes, with more than 1.4 million subscribers in the Americas.
The JUPITER System supports applications such as community Wi-Fi hotspots, cellular backhaul, and in-flight connectivity services, in addition to broadband internet access.
Yassine Sellahi, CEO, ATS, said that to connect people throughout Algeria with satellite broadband service, the company required a satellite platform that can deliver high performance and efficiency, with the correct economics. The Hughes JUPITER System was selected for these reasons as well as for its scalability as ATS looks to grow the company's satellite internet business and extend connectivity everywhere.
Ramesh Ramaswamy, SVP and GM, International Division, Hughes, added that the company's global strategy is to help connect the unconnected by delivering service directly where the firm operates the business and to work with selected partners, such as ATS, in places where they do not. Hughes appreciates the opportunity to help ATS launch service throughout Algeria and to bring the benefits of high speed internet access to the many that are unserved or underserved by terrestrial providers.