Maxar Technologies (NYSE:MAXR) (TSX:MAXR), has been awarded a new, four-year contract with the U.S. National Geospatial-Intelligence Agency (NGA) for the Global Enhanced GEOINT Delivery (Global EGD) program.
The contract, which starts on September 1, 2019, is valued at $44 million for the base year and includes three option years at the same value that would extend the contract through August 2023.
The new contract will allow Maxar to continue providing more than a quarter million U.S. Government users with online and offline, on-demand access to the world's highest resolution commercial imagery. Since 2011, the Global EGD program has allowed warfighters, first responders, intelligence analysts and civil government users to tap into Maxar's 100-petabyte historical imagery library and daily imagery collections for time sensitive, mission-critical planning and operations.
Dan Jablonsky, Maxar's CEO, said the Global EGD program has proven to be an essential capability for NGA and a broad array of U.S. Government users. With this contract, Maxar extends its decades-long standing as a trusted partner to the U.S. Government and the company is proud to continue providing American troops, intelligence analysts and first responders with the information and insight to make decisions with confidence.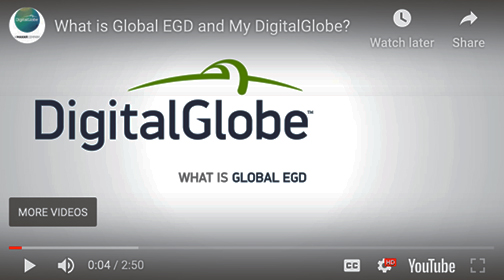 A video entitled "What is GLobal EGD and My DigitalGlobe?" is available at this direct link...