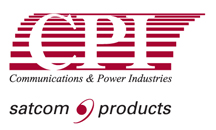 Communications & Power Industries LLC (CPI) is introducing touchscreen capability to the firm's heralded GEN IV klystron power amplifier (KPA) product line at the IBC2017 trade show that's taking place in the Netherlands this week.
This year's IBC2017 trade show is being held at the Amsterdam RAI Exhibition and Convention Center. The GEN IV is the latest in the Satcom & Medical Products Division's (SMP) broad portfolio of satellite communications amplifier products to feature CPI's industry-leading TouchPower™ local interface.
According to Gerard Charpentier, CPI's VP of business development for SMP Satcom Products, the company's GEN IV product line is a tried and true SATCOM industry stalwart, relied upon by customers around the world. In order to make these high-powered amplifiers an even more dependable choice for customers, CPI is also applying some other innovative technologies to the GEN IV product line. The addition of a modernized air cooling system to lower internal temperatures will result in even longer lifetimes for klystrons, which already typically operate for many years without requiring replacement. The new TouchPower GEN IV also boasts SNMP interface capability; a new RF power meter providing direct average power readings, and enhanced event log capability.