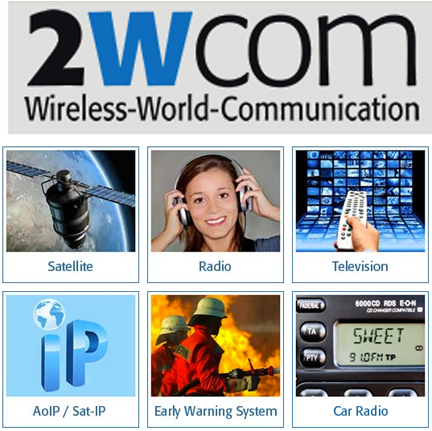 [SatNews] A year has passed since the last IBC and 2wcom will present their new ideas and solutions for the broadcast market at IBC2015.
Highlights for the show..
Audio over IP / SAT Distribution Solutions – 2wcom's audio encoders and IP / SAT receivers offer a wide range of possibilities for FM broadcasters. Extensive redundancy scenarios, regionalization and safe operation modes are some of the key advantages of 2wcom's solutions. FM SFN ready.
DAB over IP / SAT Distribution Solutions – 2wcom's successful DAB+ distribution systems for EDI or ETI via IP, Satellite, E1 or ASI with extensive backup and safety solutions such as seamless switching, data reordering, dual streaming and data spreading support.
MPX over E1 / IP Distribution Solutions – 2wcom's compact MPX over E1/IP systems FMC01 and FMC02 ensure safe MPX transmission from studio directly to the transmitter. Saving devices, reducing costs and controlling quality and synchronization (e.g. SFN) of the MPX signal to be transmitted from one central point. FM SFN ready.
FM / RDS Monitoring Solutions – 2wcom's new FM02 and the soon available A30 (replacement of the successful A20) for professional, flexible FM monitoring and measurement, backup, alarm and rebroadcasting scenarios.
FM to IP Transcoding Solutions – 2wcom's 8-channel FM2TS for a wide variety of professional transcoding scenarios including providing FM stations to digital cable headends, monitoring of FM/RDS quality parameters or streaming for 8 FM stations at once.