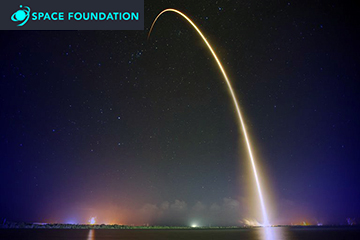 Jill Gilford, an Earth and Space Science Teacher at Twin Lakes High School in Monticello, Indiana, has been selected to receive the Space Foundation's 2019 Alan Shepard Technology in Education Award.
The annual award is presented jointly by the Space Foundation, the Astronauts Memorial Foundation (AMF) and the National Aeronautics and Space Administration (NASA) in recognition of creative and innovative use of technology by K-12 educators, or district-level education personnel.
Gilford started a program at her school called Science Buddies, a peer mentoring program that trains high school students to present science, technology, engineering and math (STEM) activities to first graders. The activities focus on collaboration, organizational skills, problem solving and design process. The program also uses video conferencing to enable students to virtually travel to classrooms around the world, such as in Australia, Italy and the Ukraine. Gilford has won a number of teaching awards, including the 2017 Twin Lakes School Corporation District Teacher of the Year, and she was an Indiana Teacher of the Year top finalist in 2017.
Last year's Shepard Award recipient was Oregon science teacher Diego Martinez. The award, named for Mercury and Apollo astronaut Alan Shepard, will be presented during the Space Foundation's 35th Space Symposium, to be held April 8-11 at The Broadmoor in Colorado Springs, Colorado.
To learn more about Space Foundation STEM education programs, please visit www.discoverspace.org.