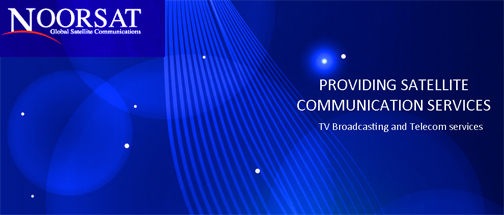 The opportunities to meet with peers to discuss the latest technologies within the broadcasting and SATCOM industries and to then network with potential clients are just a couple of the major reasons why IBC2016 in Amsterdam is an important trade event.
NOORSAT is preparing for their presence at IBC2016, which will be held at the RAI from September 9th through the 13th. The NOORSAT team will be available to meet at the show with those interested in learning more about the company's broadcast, media, data and telecom services.
IBC will offer visitors the opportunity to discover the latest advancements in broadcast technology that affect the millions of viewers around the globe. No longer is linear TV the only option; the rise of VoD and interactive TV has completely changed the experience from a customer perspective. The broadcasters that use satellite capacity to reach their customers are evolving with their clients' demands and they require more from their service provider than ever before. They seek managed services that can enable them to offer the full range of broadcast services. NOORSAT is focused upon meeting the changing expectations of its customers and is constantly tuned into the market developments.
Now in its tenth year of business, NOORSAT provides users with highly reliable Direct-to-Home (DTH) TV services from the only two hotspots serving the Arab world. NOORSAT also provides satellite capacities to serve the increased demand for additional telecom services, such as video, telephony and the Internet. The company's state-of-the-art teleport and broadcast center enables the company to provide the highest quality of services that include Occasional Use TV, playout and turnaround services.

Omar Shoter, CEO of NOORSAT commented that at NOORSAT, the firm's priority is to remain at the cutting edge in order to provide the best infrastructure and services to our customers. IBC is an important event in the satellite calendar as this gathering allows us to meet with the industry and with customers to discuss topics that matter to them and gives the firm a good idea of where the industry is heading and how to adapt to meet future demands."