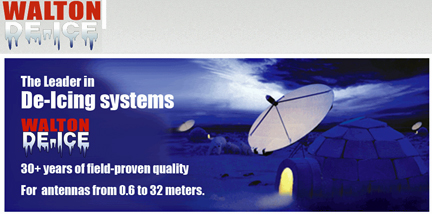 Walton De-Ice will be unveiling their new Walton ADC-4000 Antenna De-Icing Control System for the first time at IBC2017 in Hall 1, Stand 1.A62.
The Walton ADC-4000 makes the operation of Walton hot-air de-icing systems more accurate and efficient than ever, offering potential savings in management and labor overhead for satellite broadcast and head end facilities.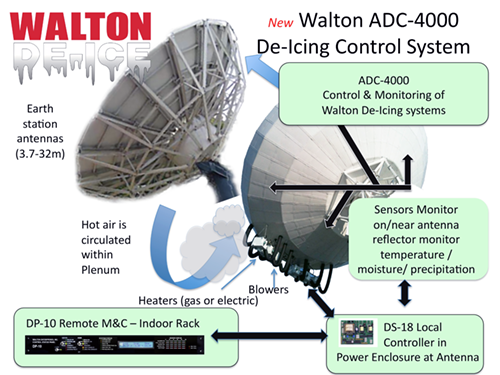 The system provides rain and snow detection, basic monitoring and control functions and control of heaters and blowers in order to maintain ice-free conditions on an antenna reflector, feed, and sub reflector without assistance from site personnel. The ADC-4000 uses ambient temperature monitoring, and senses both within De-Ice enclosure (Plenum) and outside near the reflector's surface. Local units (DS-18) on or near the antenna and remote units (DP-10 Remote Control/Status Unit) work in unison with temperature probes and other components to provide the most up to date and cost effective Antenna De-ice Control System in the industry.
Temperatures are displayed via the remote digital rack mounted monitor (DP-10), and the system can communicate with external earth station and broadcast M&C systems via RS-232, 4 wire RS-485, IP through Ethernet or Fiber Optics. The all-new DS-18 and DP-10 units are EMI/RFI rated for Defense applications.
The ADC-4000 provides four control functions: Snow Detection, Rain Detection, Heater Operating Point Control, and Main Reflector Temperature Balance Control. The Temperature Balance Control function reads and stores "temperature span" settings in order to ensure that the surface temperature of a main antenna reflector is uniformly distributed, thereby preventing or minimizing reflector distortion losses. Broadcasters can designate "Trigger Temperature" thresholds for auto activating/de-activating antenna heaters, with optional adjustable time delay settings.
Existing installations of legacy ADC-3000 or ADC-2000 De-Icing Control systems can add Temperature Control features similar to the ADC-4000's built-in feature by ordering an easy-to-install TCS-2 upgrade option.

At IBC2017, Walton De-Ice will also showcase their patented Ice Quake and Snow Shield antenna cover solutions for antennas from 0.6 to 6.3 meters. Ice Quake can enable up to 100-fold energy savings compared with conventional anti-ice solutions. The Snow Shield antenna cover offers passive or active heated prevention of snow and ice buildup on professional satellite dishes. Walton's ADC-4000 Antenna De-Icing Control System adds a new method to actively control the heat within an antenna de-icing enclosure thus allowing for improved control of the antenna surface temperature.
Bill Walton, President of W.B. Walton Enterprises, Inc., noted that the company's unique Hot-Air De-Ice design for antennas from 3.7 to 32 meters provides the most economical and reliable system on the market, with CE-approved forced-air heater options and electric, liquid gas or propane fuel flexibility. With De-Ice's improved temperature control and monitoring solution, automatic activation can lower De-Icing operational costs for broadcast and satellite customers. The new ADC-4000 features now give users control of the actual temperature on their dish.