At IBC, Bridge Technologies (Stand 1.F68) will be focusing on how the company is responding to the industry requirement for maximum interoperability.
The Bridgetech stand is home to a demonstration featuring Bridge's innovative VB440-SW dual 40 Gigabit Ethernet software probe and Embrionix Design's SDI conversion modules. The demonstration, which shows how the SMPTE ST 2110 standard is a practicable way forward to achieve interoperability, uses live playback sources on the Bridge Technologies stand, generating live streams that enable visitors to view network performance in real time. The demonstration is also being hosted as part of the AIMS IP Showcase at IBC (room E.106), where more than 40 vendors will demonstrate real-world IP interoperability based on SMPTE ST 2110 final draft standards and AMWA NMOS specifications. Embrionix provides innovative conversion solutions using a unique product design based on an SFP (Small Form-Factor Pluggable) that can be inserted directly inside other manufacturers' equipment.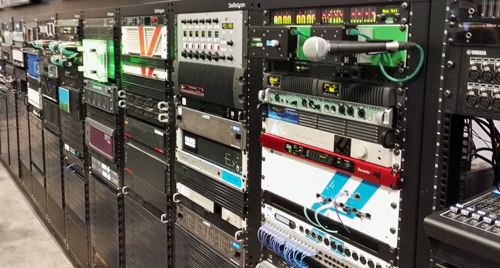 The VB440-SW dual 40 Gigabit Ethernet software probe monitors high density IP media traffic in core broadcasting networks, production studios, outside broadcast and master control centers, enabling users to quickly rectify problems and maximize Quality of Service (QoS).
It is unique in its ability to support dual 40 Gigabit Ethernet interfaces — giving it an effective throughput of 80 Gigabits — and in its support of any media oIP, providing network operators and digital media organisations with a monitoring/analytics solution for thousands of streams and multiple technologies in real-time and in parallel. Providing SDI analytics from 270MBit to 12GigaBit requires packet accuracy in the nanosecond range, and is already built in to Bridge Technologies IP probes.
The VB440-V is also the first product to feature SMPTE 2022.7 dual redundant stream analysis as an extension its support for ST2110, ST2022.6, RFC 4175 and AES67.
Simen K. Frostad, Chairman, Bridge Technologies, noted that achieving absolute and straightforward interoperability between the systems of every broadcast manufacturer is crucial to the future of this industry, and it is uniquely made possible by IP technology. There is no doubt that IP can do, in technical terms, whatever the industry needs it to do in order to achieve the interoperability that is fundamental to success. The industry absolutely must embrace IP."
Frostad continued that at Bridge Technologies, the company has long been proponents of the significant advantages and benefits that IP brings. As an industry, huge strides are being made in the correct direction – but there is still much to do if the true potential of IP is to be realized. IP should not just be tolerated — it should be wholeheartedly embraced, for three reasons. First is the interoperability that it has demonstrably delivered over time. Second is the potential it holds for the future, as the broadcast industry reinvents itself. Third is the significant cost saving it can bring with it. The good news is that, as the industry moves into a highly interoperable IP future, many of the tools needed to help make that transition successfully are already in place, such as the network probes offered by Bridge Technologies.