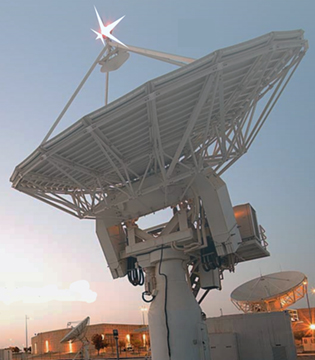 Al Yah Satellite Communications Company (Yahsat) has has won the prestigious Emiratization Award from the UAE Ministry of Human Resources and Emiratization (Tawteen) in three categories.
Yahsat was conferred the coveted prize for Best Company of the Year in the Establishments category, while two of its talented employees collected awards for Best New Emirati Employee and Best Emirati in a Supervisor Role.
Field Operations Engineer, Abdullah Essa Ahmed Sharif, won the Best New Emirati Employee award, which recognizes talented Emiratis who have taken up employment shortly after graduation. Yahsat's newly appointed Deputy Chief Technical Officer (CTO), Adnan Al Muhairi, was selected as the Best Emirati in a Supervisor Role. This award honors Emirati managers and section heads who are active in the private sector. All winners received their awards from His Highness Sheikh Mohammed bin Rashid Al Maktoum, the UAE Vice President and Prime Minister, and the ruler of Dubai.
The annual honor is bestowed on exceptional Emiratis and Emirati companies across a number of categories. The Emiratization Award acknowledges the achievements of private sector companies that champion Emiratization in support of UAE Vision 2021. The categories include Establishments, Best Emiratization Supporting Entity, Emiratization Pioneer, Best New Emirati Employee and Best Emirati in a Supervisor Role.
Congratulating the winners, Yahsat's Chairman and Chief Executive Officer of Mubadala Aerospace, Renewables and ICT, Khalid Al Qubaisi, said that the company is very proud of Abdullah and Adnan – this is an important recognition of their individual achievements as well as a testament to Yahsat's ongoing commitment to nurturing and developing National talent. Being recognized as Best Company of the Year is a true honor. As a homegrown Emirati company, at Yahsat the company takes it as the firm's national duty to build and develop the unlimited and untapped potential of the young and future leaders and provide them with the correct tools and opportunities to excel.
Yahsat's CEO, Masood M. Sharif Mahmood, offered his best wishes to the two individual winners and to Yahsat on this memorable achievement. He further emphasized the significance of the company's successful Emiratization program and said that as Emiratis set multiple milestones in the global space industry, the company is very happy to note Yahsat's contributions to the growth of indigenous talent. The company provides an excellent platform to Emirati students looking to build a career in the space and satellite sector. The firm supports them in their chosen fields through rigorous training and career development programs. At every level, Yahsat facilitates higher education, research and unique on the job training. As a result, Yahsat has become the employer of choice for Emirati space and satellite engineers.
Yahsat won the award for the Best Company of the Year that recognizes Emirati companies on multiple fronts, including their work in innovation and community development, employment and talent development, leadership and strategy as well as engagement and work environment.
Yahsat's Chief Human Capital Officer, Muna Al Muhairi said, "We are honored and humbled by the recognition. I warmly congratulate our winners and the entire Yahsat family that have made these awards possible through their commitment and hard work. We are inspired by our youth, and we aim to make Yahsat a place where our children dream of working and a company that our young generations are proud of."
The Best New Emirati Employee award winner, Abdullah Essa Ahmed Sharif graduated as a Mechanical Engineer from the American University of Sharjah, with a Minor in Engineering Management. In 2018, he obtained an MSc in Engineering Systems and Management from Khalifa University, with a specialization in space systems and technology. Abdullah was part of the team that conceptualized and built the UAE's first nano satellite with remote sensing capabilities – MYSAT-1 - at Yahsat Space Lab on Khalifa University premises. After the successful closure of the project, he wanted to have a broader understanding of the space industry, which led him to take up his current role at Yahsat as a Field Operations Engineer.
With a distinguished record in the space industry, Adnan Al Muhairi has worked at Yahsat for 10 years. He was involved in the UAE's first successful remote sensing spacecraft programme. Later, he worked on the UAE's first communication satellites, Al Yah 1 and Al Yah 2, before being appointed as the Program Director of the Al Yah 3 space communications system - a highly advanced space network that expanded Yahsat's services further into Africa and also into Brazil. As Deputy CTO of Yahsat, Adnan oversees the design and development of cutting-edge communication solutions for Yahsat's customers across the world.