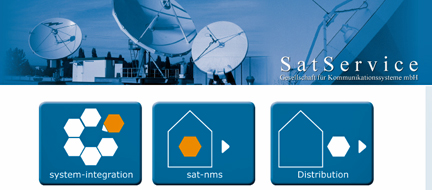 [SatNews] If a visit to this year's IBC2015 which is occurring from September 11th through the 15th, SatService invites all to visit the company's booth at Stand 1F.47 in Hall 1.
On site will be Mr. Michael Ulbricht, Mr. Ulf Wulfert and Mr. Kai Koppenburg. Being presented this year at the SatService booth will be:
Sat-nms SMU - Signal Management Unit
Sat-nms MNC / NMS – Software for Satellite Ground Stations
ARG EASY 8000 ARQ – IP Gateway
System Integration – Turnkey Solutions.
In addition, presented to the industry will be the firm's new, graphic logo.
As official Business Partners of Anacom, Ateme, Newtec, Terrasat and Viprinet, company representatives will also be available for all questions concerning the equipment offered by the firm as well as discuss any applications and projects you may be seeking solutions for—feel free to reserve in advance a time slot with the SatService booth staff.