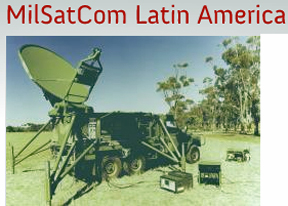 [SatNews] Latin America has been a prominent region in advancing its SATCOM capabilities with countries such as Brazil, Chile and Mexico all either launching, or planning to launch, domestic satellite programs.
MilSatCom Latin America 2015, which will occur from September 22nd through the 23rd at the Maceio Atlantic Suites in Maceio, Brazil, is now in its second successful year and is the only regional meeting place for military satellite communications specialists and all those responsible for optimizing security and surveillance of national and air space and key domestic assets.
SMi announces that Maximiliano Erazu, Senior Engineer in LEO Satellite Communications, Argentinean Space Agency (CONAE), will be presenting on Day Two of the Conference on "Trends in communications systems for the Earth observation satellites."
Additionally, the pre-conference workshop co-leader will be Colonel Armando Lemos, Technical Director, Defence and Security Industry Association of Brazil, ABIMDE
Featured speakers and presentations include...
Spanish MoD MILSATCOM Program, Our Roadmap To Enhanced Military Operations In An Efficient Way
Speaker: Brigadier General Carlos Salas Murillo, Head of C4ISR and Space Systems, Directorate General of Armament and Equipment (DGAM), Spanish Armed Forces
The French SATCOM Strategy: Enhancing Data Delivery Through Space Situational Awareness
Speaker: Colonel Frank Scher, Chief Space Capabilities, Joint Space Command, French Ministry of Defence
Creating A Reliable And Responsive Military Information Assurance Through The Use Of Military Satellites
Speaker: Lieutenant Colonel Abde Bellahnid, Acting Director General Space & Joint C4ISR, Department of National Defence, Canada
Successes Of The MEXSAT Satellite Program for National Security
Speaker: Hugo Montoya, Director of Innovation and Competitiveness, Mexican Space Agency
To download the complete event agenda, select this infopage link.
For more information on the conference and workshop visit http://www.milsatcom-latinamerica.com/