ORBCOMM Inc. (Nasdaq: ORBC) has been selected by Queen Transportation, LLC, an asset-based truckload carrier and logistics provider, to provide their in-cab solution across their entire fleet of trucks.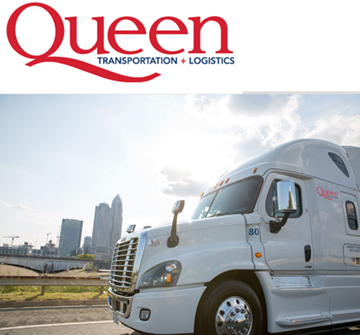 ORBCOMM's advanced solution provides wireless connectivity through its industry-leading hardware and integrated Cloud-based analytics platform and information management engine for optimal fleet management.
Queen Transportation is using ORBCOMM's in-cab solution to enhance operational efficiency through increased visibility and auditing, along with more automated management of their drivers and trucks. ORBCOMM's in-cab solution delivers GPS fleet tracking and connects to the truck's CANbus to seamlessly collect important data from the engine, brake systems, fuel tanks and more, providing access to deep analytics and reporting via FleetManager, ORBCOMM's newest web platform.
By automating hours of service calculations, ORBCOMM enables Queen Transportation to comply with the Electronic Logging Device (ELD) and FMCSA Hours of Service (HOS). ORBCOMM's solution also helps Queen Transportation improve driver safety by providing live, on-board driver performance scoring and correcting unsafe driving behaviors that lead to accidents, fines and higher insurance. By leveraging ORBCOMM's platform, Queen Transportation can decrease operating and maintenance costs and improve productivity through real-time asset management, reduced risk of fuel loss and preventive maintenance.
To further enhance productivity, communications and customer service, Queen Transportation is using an integration that links ORBCOMM's FleetManager data from its truck assets to the McLeod Software transportation management system and workflow application. In addition, Queen Transportation is incorporating ORBCOMM's new scanning application into their operations, which allows their drivers to electronically submit proof of delivery paperwork, speeding up the billing process and improving cash flow.
Queen Transportation is also leveraging ORBCOMM's integration with the Drivewyze® PreClear Weigh Station Bypass solution, so they do not need to stop or slow down at scales, saving fuel, maintenance costs and driver hours of service.
Marc Eisenberg, CEO of ORBCOMM Inc., said Queen Transportation is dedicated to providing its customers with the highest quality service and the company pleased to provide a powerful fleet management solution to help them unlock incremental efficiencies and performance levels. Queen Transportation is taking full advantage of a number of unique integrations within the ORBCOMM platform to automate workflow, optimize driver hours of service and improve billing, and they're already seeing benefits to their bottom line.
Doug Ostrowski, Director of Operations for Queen Transportation, LLC, added that ORBCOMM offers the flexibility and reliability the firm was looking for in a fleet management solution that enables the company to share data and insights seamlessly across operations and gain full visibility into every aspect of the business. Queen Transporatation drivers find ORBCOMM's solution to be intuitive and their customer support to be top-notch..