Renesas Electronics Corporation (TSE:6723) has expanded their portfolio of mmWave solutions with the introduction of two new IC families for SATCOM, radar, and phased array applications: the F65xx transmit active beamforming ICs and F692x low-noise amplifiers (LNAs).
Featuring a combination of low power consumption, high gain, and compact size, the new solutions deliver a performance boost for antennas used in SATCOM and radar systems.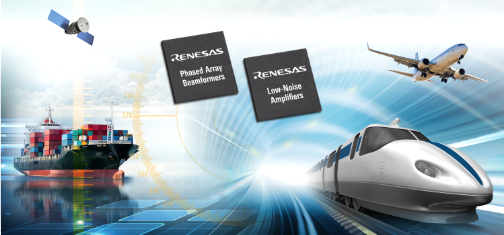 The F65xx and F692x devices address the thermal and integration challenges designers face as they transition from bulky mechanically scanned antennas to lower weight and profile active electronically scanned array antennas (AESAs). The two new families support SATCOM, radar and point-to-point communications applications in the Ku, Ka, and CDL frequency bands.
Naveen Yanduru, VP of RF Communications, Industrial and Communications Business Division at Renesas, said that when migrating to AESAs from mechanical antennas, the firm's customers require reliable, compact and cost-effective ICs with exceptionally low power consumption and noise figures that meet their system EIRP and G/T requirements. Renesas is excited about the emerging capabilities that these new IC families will enable, including in-flight live video conferencing, ubiquitous global broadband connectivity and all-weather radar situational awareness for autonomous vehicles and drones.