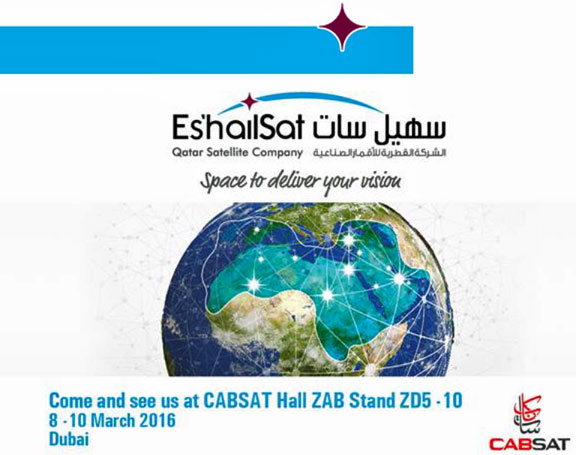 [Satnews] Es'hailSat, the Qatar Satellite Company, is exhibiting at the annual CABSAT exhibition in Dubai, the leading platform for the broadcast, content delivery, digital media and satellite sectors across the Middle East, Africa and South Asia.
The company is showcasing Es'hail-1, currently transmitting high quality, premium DTH television content from the 25.5 degrees / 26 degrees East neighborhood for leading channels such as Al Jazeera and beIN Sports.
In addition to providing transmission and expansion opportunities for established news and sports channels, a growing number of new Arabic channels are choosing Es'hailSat to launch in the MENA region. Qatari cultural channel Al Rayyan 2 and Al Araby Television Network, a London-based channel which aims to be a platform for Arab youth, talent, energy and aspirations, both recently launched HD channels exclusively on Es'hail-1.
Es'hailSat is also pushing ahead with plans to expand its satellite fleet, with the planned launch of its second satellite in 2016. Es'hail-2, a new high-performance satellite with sophisticated anti-jamming capabilities will be positioned at the 26 degrees East hotspot position for TV broadcasting, significantly adding to the company's ability to provide high quality, premium DTH television content across the Middle East and North Africa. Es'hail-2 is expected to be launched at the end of 2016. And discussions are already ongoing with customers and stakeholders to define the requirements for a further satellite—Es'hail-3.
With a commitment to providing broadcasters with secure and independent satellite transmission, Es'hailSat has also commissioned its own teleport which will be completed in 2H 2017. The new facility at a dedicated 50,000 m2 site north of Doha, will provide satellite TT&C and capacity management together with a wide range of teleport services such as uplink, downlink, contribution, multiplexing, encoding, playout and broadcasting. The high-tech teleport will also provide back-up studios for TV channels and serve as a disaster recovery facility for broadcasters, and will be linked with key media broadcasters by a redundant, dedicated fibre optic link.
Ali Al Kuwari, President and Chief Executive Officer of Es'hailSat, said, "It is a pleasure to be exhibiting once again at CABSAT. With Es'hail-2 and our new teleport coming online in 2016, we believe we have the optimum solution for broadcasters in the MENA region and beyond, not only in terms of technical capabilities and performance but also in terms of security of content. CABSAT is an important occasion where Es'hailSat can confirm its position as key player for satellite communications in the region. We see this exhibition as an important element in our strategy to attract customers who value broadcasting independence, quality of service and market penetration."