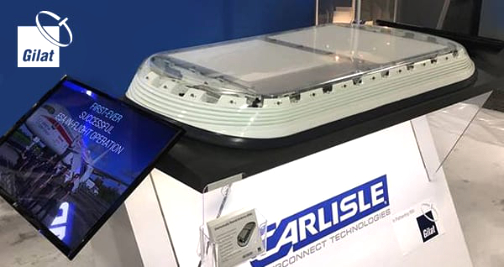 Gilat Satellite Networks Ltd. (NASDAQ, TASE: GILT) is collaborating with Carlisle Interconnect Technologies (CIT) on a newly designed ESA terminal with an integrated Thermal Management Solution — this uniquely designed small form factor ESA terminal is on display at SATELLITE 2020 show in Washington DC on CIT's booth #309.
Gilat's Electronically Steered Antenna (ESA) was the first to demonstrate in-flight operation over Ka-band on a commercial aircraft. A series of successful test flights have occurred over the last few months via GEO and LEO satellites. The ESA terminal is a fully electronic beam steering, no moving parts terminal, featuring wide instantaneous bandwidth, wideband frequency support, instantaneous beam switching and gate-to-gate operation. The compact design by CIT exhibits an ultra-low profile, small footprint and an all-inclusive offering of outdoor antenna equipment in a single line replacement unit for: antenna, baseplate, skirt and transparent radome.
Roni Stoleru, VP Antenna Products and Strategy at Gilat, related that the company is pleased to join forces with its partner, Carlisle Interconnect Technologies, and to present Gilat's ESA terminal in CIT's booth at SATELLITE 2020. Carlisle Interconnect Technologies' team is the expert in innovative Thermal Management Solutions (TMS) and the firm couldn't be more pleased with the elegant and compact design of Gilat's proven technology, for which we are already seeing significant market interest.
Kris Samuelson, Director of Sales, IFCE/Interiors at CIT, stated the company is delighted to collaborate with Gilat and to display the ESA terminal in the company's booth at SATELLITE 2020. Gilat's proven and scalable technology easily integrates the firm's Thermal Management Solution for both the small form factor business and general aviation market, as well as the commercial aviation market.