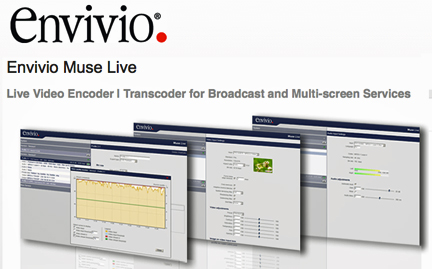 [SatNews] Envivio (NASDAQ: ENVI) has introduced the Envivio G5 family of Intel-based server appliances that leverage the latest generation Intel Xeon IvyBridge processors.
The new G5 platform significantly increases compression density, supports the latest Ultra HD 4K resolution and HEVC (H.265) encoding, and lowers operating expenses for service providers. Operators deploying Envivio Muse™ Live encoders on the new G5 platform can deliver up to 100 high quality SD or 20 HD channels in a 2RU configuration. In a typical IPTV or cable scenario, this represents a significant cost savings. Rack space requirements can be reduced by nearly 40 percent and power consumption by more than 30 percent compared to the previous generation of Envivio appliances.
"Envivio software deployed on G5 is a powerful solution that supports everything from Ultra HD to mobile in a single system and offers dramatic cost savings for service providers," said Cyrille Berson, director of products for Envivio. "Our software-based video processing architecture provides the performance and reliability operators need, while also increasing flexibility and allowing for future upgrades."
The full suite of Envivio software—Envivio Muse Live and Muse On-Demand encoders, Envivio Halo™ network media processors, Envivio Guru™ network management system and 4Balancer™ load balancer—will run on the upgradeable G5 appliances. Redundancy capabilities are available at the application level, with source and output redundancy, as well as at the system level, with 1+1 or N+M redundancy schemes supported. Two families of servers will be available, the G5 1000 series (1RU) and G5 2000 series (2RU). The G5 2000 series features a modular hot-swappable multi-node architecture, which offers greater scalability and ease of upgrades. Envivio Muse and Halo are also transitioning to the Linux operating system, which simplifies software and network management operations in an IT-based environment.
The complete range of Envivio solutions will be on display at NAB 2014 booth SU6202, taking place in Las Vegas from April 7-10.
Visit http://www.envivio.com/ to learn more about TV without boundaries.