A longtime legend in the space industry will be honored for his peaceful passing on July 23 at the age of 90. Robert "Bob" Berry, Sr. born on July 4, 1928, kept his life in balance by his faith, his love for his family and his career that spanned from the beginning stages of communication through to satellite systems that enable people to communicate worldwide. His jobs have all been memorable such as during college he was a guard for Santa at Macy's in the holiday season, on to becoming President and Chairman of Space Systems Loral.
The family shared this information regarding Bob.
He was predeceased by his loving wife of 61 years, Dorothy, and his siblings; Marguerite Prost (Marcel), Charles (Martha), Joseph (Carol) and William Berry. Robert leaves behind his devoted son, Robert E. Berry Jr., his daughter-in-law Sandra Pollano Berry, his four grandchildren; Renee (Matthew Boitano), Robert Leo (Megan), Andrea, Valentina, and his three great grandchildren; Jude and Reese Boitano, and Pippa Berry.
Born in 1928 in Atlantic City, New Jersey, Robert Emanuel Berry Senior has concluded the 90 beautiful years of life in Los Altos Hills, California. Bob received his Bachelors of Science from Manhattan College and his Masters in Economics from the Wharton School at the University of Pennsylvania. He worked his way through college in as a Lab Technician at The City College of New York, and also as a guard for Santa at Macy's during the holiday season. Bob served as Lieutenant in the United States Navy before his work as a pioneer in the aerospace industry.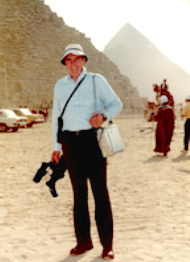 Laying the groundwork for today's modern communications, Bob's vision for the future of satellite systems resulted in the development of innovations that have helped people all over the world.
Bob served on the Space Systems Technology Advisory Committee for NASA, the U.S. Department of Transportation's Commercial Space Transportation Advisory Committee and was appointed as the Deputy Director of Defense Research and Engineering under President Gerald Ford.
From 1977-1990, Bob was the general manager of Ford Aerospace's Space Systems Division. In 1999 he was named president of Space Systems Loral (SSL), and chairman in 1999. Bob served as SVP of Loral Space and Communications until his retirement at the age of 80 in 2008.
Bob led SSL through meteorological satellite projects for defense, civil and commercial applications and played an important part in what is today's commercial satellite industry. A Resident of Los Altos Hills since 1978, Bob and his wife Dorothy also lived in London, England; Margate, New Jersey; Media, Pennsylvania; Atherton, Laguna Beach and La Jolla, California.
Bob and Dorothy loved traveling and learning about cultures and traditions from people all over the world. In travel and at home, they loved spending time with people, most especially their beloved friends and family.
They were often known as gracious hosts for creative events that included beautiful food and always laughter. Bob, or "Bibo" as he was affectionately known by his family, was an extraordinary kind, wise, and earnest grandfather. His family will be remembered for his objective, loving and reasonable feedback, his patient resolve and his great faith and dedication to leading a life that would make God proud of the impact he had on the world. His humble and patient presence will be greatly missed.
In lieu of flowers, the family requests donations be made to Immaculate Heart Monastery, 28210 Natoma Rd., Los Altos Hills, California 94022
A Rosary will be held on the evening of Thursday, August 2nd at 7:00 P.M., and a Memorial Mass on the morning of August 3rd at 11:00 A.M. Both of these events will be conducted at St. Nicholas Church, 743 Lincoln Ave., Los Altos, California 94022.
The community is invited to view and contribute to the memorial website the incredible impact Bob has had on so many people.