CompassDrone, developers of unmanned aerial solutions for high-quality data collection, has developed a comprehensive drone-based mapping program that has been designed specifically for Public Safety applications.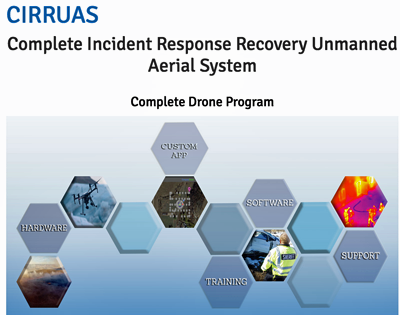 The Complete Incident Response Recovery Unmanned Aerial System (CIRRUAS) program is designed primarily for Accident Reconstruction and Crime Scene Mapping, but is also applicable to Search & Rescue and Reconnaissance missions. The CIRRUAS package contains everything needed for public safety personnel to quickly and accurately map an accident or crime scene for 3D reconstruction or evidence preservation purposes. Different CIRRUAS packages are offered, but each contains multiple DJI drones — the best-selling unmanned aerial systems in the world — software, and Part 107 commercial flight training.
CompassDrone will showcase and demonstrate the CIRRUAS solution in booth #750 at the 2017 APCO Conference & Exhibition being held August 13-16 in Denver.

CompassDrone VP Hayden Howard noted that CIRRUAS was designed by law enforcement for law enforcement to meet their unique mapping and data collection needs. The result is a complete drone program comprising all the hardware, software and training they need to deploy drones in their daily operations.