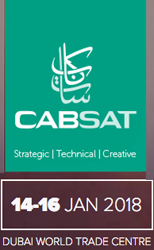 Integrasys will be demonstrating their solutions for installing and monitoring HTS satellites at CABSAT, as well as the firm's solutions for LEO and MEO constellations — the company
will be exhibiting at booth ZB2-B11 at CABSAT from January 14 to 16, 2018.
Satmotion HTS has the same auto-commissioning features as Satmotion Pocket, making pointing to the correct satellite quick and simple. It also supports multiple beams, allowing beam balancing and hopping and traffic sharing to resolve the problem of too many users within a particular beam.

The company will also be demonstrating its carrier and spectrum monitoring tools, Controlsat and Controlsat HTS. Both solutions allow fully automated monitoring of multiple satellites and beams remotely from the Network Operations Center. Controlsat HTS is designed for High Throughput Satellite operations, but is equally adept for the new constellations launching in LEO and MEO. In these cases, the operation is centralized at the NOC and the operator will have 100s of small gateways spread around the network.
Integrasys has also been working on specific solutions for LEO and MEO operators, which have dynamic thresholds for effectively monitoring their carriers and services 24/7.

Juan C. Sanchez, the CEO at Integrasys, said that the satellite industry is going through a period of immense innovation right now, in particular with HTS deployments and new small satellite constellations. In order for the industry to fully maximize on those technologies, the correct solutions need to be in place to provide better accuracy and efficiency. Integrasys is constantly looking at where the industry is going to provide those solutions, not just for the current satellite environment, but for future scenarios, as well.