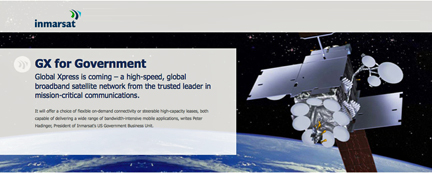 [SatNews] Inmarsat, in partnership with its Value Added Resellers, has begun providing wideband communications capability to U.S. government customers through its Global Xpress service carried over the first Inmarsat-5 satellite.
Using 72 fixed beams in commercial Ka-band, along with military Ka-band capacity available on its high-capacity steerable beams, Global Xpress is now supporting aeronautical and land terminal operations in the Indian Ocean Region with high-throughput connectivity. The steerable beams are designed to complement military Ka-band capacity provided by the Wideband Global SATCOM system (WGS) in areas of high demand, while the fixed beams enable consistent and reliable service across nearly all of the visible earth.
Peter Hadinger, president of Inmarsat's U.S. Government Business Unit, said, "Our goal throughout the design process was to address many of the U.S. government's most critical communications needs, and now, Inmarsat is delivering on that objective."
Global Xpress exceeded expectations during extensive user evaluations and tests. Users indicated that terminals were highly reliable under all operational conditions, providing seamless wideband SATCOM connectivity crucial to their mission requirements. The Inmarsat-5 military Ka-band steerable beam technology efficiently supports very high data rates and very small apertures enabling the satisfaction of previously unmet key mission requirements. Additionally, the iDirect evolution-based Global Service Beam (GSB) performance met or exceeded data throughput available on older Ku-band services using satellite terminals of equal or smaller size.
"These evaluation results prove that Global Xpress provides an ideal solution for U.S. government users," Hadinger stated. "The service's unique combination of worldwide coverage and military satellite communications interoperability makes it truly unmatched in the marketplace."
Inmarsat-5 F1 achieved commercial service introduction (CSI) for U.S. Government users in the Indian Ocean Region coverage area on July 1, 2014, after successful launch and activation of the satellite and related redundant ground infrastructure. The service is currently supporting users across its footprint, including in Europe; the Middle East, Africa; and southwestern Asia.

Additionally, Inmarsat and TECOM, a part of Smiths Microwave, have established a Memorandum of Arrangement (MOA) to manufacture Global Xpress® aviation terminals for the government market.
TECOM's initial offering for the government aviation market is the recently-developed Ka-5000 SATCOM antenna system. This terminal will allow government aeronautical customers access to the high-speed wideband capabilities of the Inmarsat-5 Global Xpress satellite constellation in both the military and commercial Ka-bands. The Ka-5000 features a special thermal management solution that enables government users to operate in a wide variety of operational scenarios. Additionally, the system's multi-modem capability allows customers to use any desired network infrastructure, providing maximum flexibility.
TECOM President, Gene Joles, said, "Inmarsat and TECOM have partnered for years in the L-band market, and we are excited about the possibilities the Ka-band market holds as Global Xpress enters worldwide commercial service in 2015."
"We are delighted about this arrangement with TECOM given their expertise in introducing innovative terminals for government aeronautical applications. Global Xpress is designed to fulfill the government user's critical requirement for mobile, interoperable, high-throughput connectivity worldwide, and we look forward to utilizing that capability through our value-added partners, providing affordable solutions for this demanding market," said Peter Hadinger, President of Inmarsat's US Government Business Unit.
Inmarsat is also expanding the availability of mobile tactical Beyond-Line-of-Sight (BLOS) communications to actively deployed U.S. and coalition forces through the skills of its partners and the capabilities of its powerful Inmarsat-4 satellite constellation.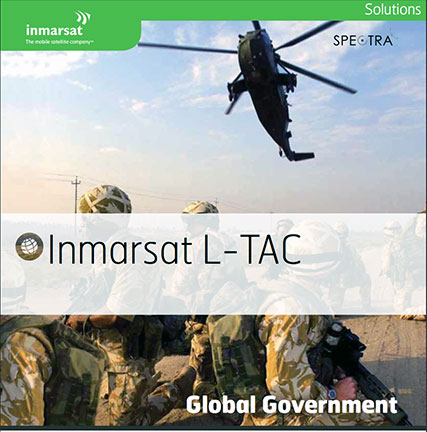 The company's L-band Tactical Satellite (L-TAC) service delivers a highly resilient 'Ultra High Frequency (UHF)-like' tactical satellite capability to existing military and commercial radios used by the U.S. government. L-TAC uses the significant spectrum resources of the Inmarsat-4 constellation to seamlessly augment UHF capacity on military satellites. It fully enables interoperable SATCOM using existing radios, waveforms and cryptography. Besides adding much needed channels where UHF SATCOM is restricted, degraded or unavailable, L-TAC can also be used with very small antennas. This allows the service to support secure BLOS Push-to-Talk voice and data networks for both encrypted and non-encrypted terminals, whether man-portable or installed in vehicles, helicopters, ships or other mobile platforms.
To access the L-TAC service, users require only an easy-to-install antenna adaptor for their existing tactical radios. With the simple addition of this applique, no additional training, certification or infrastructure is needed. The L-TAC antenna is also significantly smaller than most UHF SATCOM antennae, providing the added benefit of a lower profile terminal. This interoperable augmentation capability allows tactical users to meet their security and reliability requirements affordably and cost-effectively through L-band spectrum leases for durations as short as one month.
"In today's unpredictable global environment, L-TAC expands mission-critical channels of communication for U.S. military and government personnel no matter where the mission takes them," said Peter Hadinger, president of Inmarsat's U.S. Government Business Unit. "This service was designed from the ground up to meet the government end users' ever growing needs for Beyond Line-of-Sight connectivity in today's congested tactical spectrum environment."
In addition to the U.S. military and defense agencies, L-TAC will also support the civil government market for activities such as emergency response and border protection. By enabling interoperability between UHF and VHF radios on the same network, federal agencies, National Guard units and civilian personnel will be able to coordinate more effectively in the event of a major incident or civil emergency. This capability can create major savings for government by instantly lighting up nationwide mutual aid networks – covering large areas cost-effectively with existing equipment, while permitting extended reach for new public safety networks now in design.
For those attending MILCOM 2014, which is being held at the 2014 Military Communications Conference (MILCOM) from October 6th through 8th at the Baltimore Convention Center in Maryland, Inmarsat U.S. Government Business Unit executives will be available to discuss all of the above services.
Inmarsat's infosite may be accessed at http://www.inmarsat.com/
The TECOM infosite is accessible via http://www.tecom-ind.com