[SatNews] Goonhilly Earth Station Ltd. (GES), teleport operator and pioneer of broadcast and specialist satellite services, is exhibiting for the first time at the annual IBC2015 exhibition in Amsterdam, which attracts key players in the dynamic and fast-growing broadcast, digital media and satellite sectors.
The Goonhilly teleport is famous for many reasons, most notably for receiving the first ever trans-Atlantic satellite TV images, broadcast by Telstar on July 11, 1962. Building on its legacy as a pioneer in satellite broadcasting, today Goonhilly is one of the UK's best space industry assets, providing a complete range of satellite communications services including broadcast and TT&C.
At IBC2015, GES is showcasing a new broadcast uplink service on Hispasat 1E which provides television distribution services throughout Europe. The digital TV distribution service uses DVB-S2 to uplink from Goonhilly to Hispasat 1E at 30 degrees West. GES will arrange for a concept to completion service for broadcasters, securing the necessary bandwidth and providing technical advice, offering an alternative, attractive route to market and making it easier for TV channels to get their content to customers.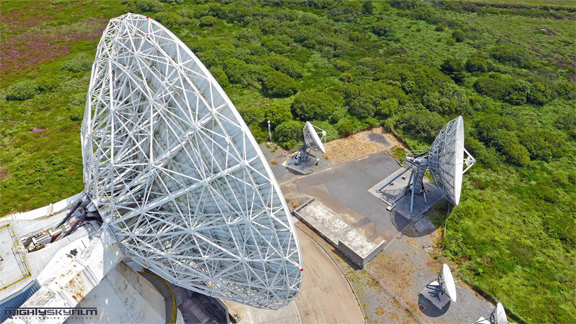 Visitors to the GES stand can also get an update on the recent developments and expansion of services at Goonhilly including the introduction of new antennas, the establishment of new satellite internet and trunking services and extended frequency band operations. The revitalized site can now open up business opportunities in Asia, Middle East, Africa, Europe and the Americas.
Leveraging it's extensive experience in the satellite communications sector, the company also provides in-depth training and research. A recent Space Mission Operations course was attended by 35 space professionals from around the world and GES is also undertaking a study for the European Space Agency alongside QinetiQ and BAE Systems with a view to bringing the largest antenna, GHY-6, into service as a Deep Space antenna, potentially supporting the NASA Orion missions to the moon.
Executive Comment
Founder and CEO of GES Ltd, Ian Jones, said, "Goonhilly is already a well-established and trusted partner for the satellite sector with customers such as Eutelsat, SES and Inmarsat relying on our services. With the launch of our new broadcast uplink service to complement our existing satellite communications portfolio, we see IBC as a key opportunity to attract new customers to grow their businesses using the cost-effective infrastructure at Goonhilly. Through our innovative approach we are rapidly developing Goonhilly into a leading UK location for satellite communication services, space science and technology."