Satellite Innovation Symposium
October 2
nd
, 2017 to October 3
rd
, 2017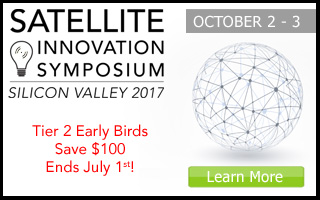 LOCATION:
Silicon Valley (map)
CONTACT:
Email: design@satnews.com
Web: https://satelliteinnovation.com/

DESCRIPTION:
Rapidly evolving technology coupled with mergers and acquisitions are changing satellite market dynamics at an accelerating pace. The 2017 Satellite Innovation Symposium aims to pinpoint key imminent market changes that will become obvious in years to come. While infrastructure and capital status have dominated for decades, key innovations will continue to cause major disruptions to the established marketplace.
What innovations will define the satellite communications industry going forward?

Join our email list today to receive first priority registration and early bird discounts!
RECENT EVENT NEWS:
Take Advantage of the Conference Early Bird Rates for the Satellite Innovation Symposium
Join the world's foremost experts on SATCOM by reserving your space at the Satellite Innovation Symposium to garner a highly worthwhile discount...